Farida Bedwei is a software developer, software engineer and computer scientist. In her over 15 years of working in the development and implementation of mobile and enterprise software, Farida has made her name as one of Africa's brightest and most successful technological minds. She has developed multiple mobility platforms and content management systems. Farida has also worked in the telecom software industry, developing mobile gateways and services for mobile networks and content providers and is known particularly for her expertise in software architecture.
Farida was born in Lagos, Nigeria to Ghanaian parents and spent her early childhood living between Dominica, Grenada and the U.K until her family moved to Ghana when she was 9 years old. When she was 10, Farida was diagnosed with cerebral palsy, an incurable neurological disorder that affects body movement and muscle coordination.
As a child, Farida developed an interest in computers, an interest her parents noticed and encouraged by enrolling her in a one-year computer course at the St. Michael Information Technology Center when she was only 15, making her one of the youngest students in the class. She holds an IMIS Diploma and a Diploma in E-Technology. She also has a BSc in Computer Science from the University of Hertfordshire, UK and a Project Management Professional Certificate from GIMPA. She is a member of the Ghana Institute of Management.
Throughout her life, Farida has not her disability stand in her way or even slow her down. In 2011, she co-founded Logiciel, a Ghana-based Fintech company that develops banking systems for the microfinance industry and provides technology solutions which promote financial inclusion for the unbanked. She serves as the Chief Technological Officer of Logiciel, where one of her many roles includes evaluating the banking industry and coming up with practical solutions which are easy for people with no formal banking training to use. In 2015, she led the creation and successful implementation of gKudi, a web-based banking software suite for the micro-finance industry which is currently used by 130 micro-finance institutions in Ghana.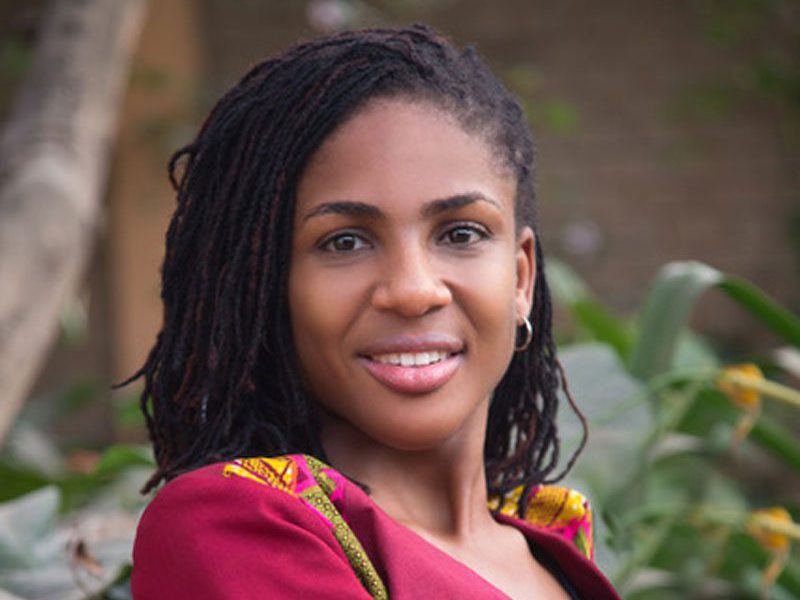 Farida is also an author and a disability-rights advocate, and has been featured on many media platforms; notable amongst them is CNN's African Voices in February 2015. She has also won a number of local and international awards, most recently at the World Youth Forum in 2018 where she was awarded for her remarkable achievements in technology in Africa. Her book, The Definition of a Miracle, is a fictional account of experiences she had as a child growing up with cerebral palsy in Ghana."
She is also creator Karmzah, the world's first superheroine with a disability. Farida explained that she created the heroine because "Persons with disabilities are usually portrayed as being feeble and asking for handouts, in the media. I want to change that perception. We have weaknesses and strengths like everybody else and it's about time the focus moved from what we can't do to what we CAN do."
She has been named the most influential woman in business and governance for her work in computerizing the microfinance industry. She currently serves on the Board of the National Communication Authority and Sharecare Ghana (an NGO which raises awareness for persons with autoimmune and neurological conditions).
#TechHer loves her because she is a role model to everyone- male or female, disabled or not. Farida promotes platforms that encourage more women to study technology related courses. She is a member of the Girls in ICT Committee – a group established to encourage more women to pursue IT careers.
Farida is living proof that disability doesn't mean disadvantage!
Jemila is the Founder of the award-winning website Circumspecte.com; an online platform dedicated to meaningful insights, interaction and creative action related to Africa and Africans. She is skillful and has vast knowledge in creating content and digital strategy.
Jemila is a graduate of Economics and French from Mount Holyoke College in South Hadley, Massachusetts.
She secured her Masters in International Economics and International Affairs from Johns Hopkins SAIS in 2013.
She speaks Arabic, French, and has elementary proficiency in Italian, Twi and Wolof; she loves reading food, film, astronomy and travelling.
In June 2016, she received the African Blogger Awards as Top Business, Finance and Entrepreneurship Blog in Africa.
The 2016 African Blogger Awards sponsored by the Bill and Melinda Gates Foundation awarded Wumpini the Africa Blogger Awards on Top Social Issues and Active Citizenship Blog in Africa.
Blogging Ghana recognized Circumspecte as the best citizen journalism and news in Ghana in March 2013.
Tripbase.com recognized Circumspecte as being one of Ghana's best travel blogs in March 2011.
Her Work:
Between October 2013- October 2015, she was AfCop Operations Assistant at African Development Bank. She designed and implemented communication and outreach strategy for online community of over 4000 members.
From June 2013 – July 2013, she worked as a Research consultant at World Faiths Development Dialogue in Washington D.C. Metro Area.
Jemila consulted on communications for African Center for Economic Transformation, Accra, Ghana between June 2012 - May 2013.
In May 2012, she worked with Ghana Decides: an election project by BloggingGhana. BloggingGhana is an association of bloggers in Ghana.
Jemima produced and moderated an online discussions geared at incorporating key insights from Ghanaians and Africans into the global sphere on issues related. The online discussion was on Google+ Hangouts in June 2012.
In 2011, Jemila was the Assistant Partner Adviser for Esoko, where she produced & translated monthly partner newsletter in English & French for over 100 subscribers. She also designed and implemented communication strategy for regional conference.
She was part of the team that birthed a series of un (conference) across Ghana called Ghana BarCamps geared at fostering collaboration, innovation and networking among Ghana in July 2009.
She founded Circumspecte in October 2007, a digital platform dedicated to capturing meaningful insights, spurring interaction and inspiring creative action on/for/by African.
As the Regional Program Coordinator for African Women's Millennium Initiative in Dakar, Senegal, Jemila raised over $250,00 in grants from donors like the Ford Foundation for AWOMI's programming.
Why TechHer Loves Her.
Jemila is passionate about Africa, and has recognized the influence and role of the media (digital) in shaping and molding developmental issues affecting the continent.
Abang Mercy was born in Ogoja in 1984, in a neighbouring town to Boki located in Cross river state. She studied at Holy Child Primary School and later proceeded to Holy Child Secondary School, both in Igoli- Ogoja.
Abang Mercy relocated to Abuja with her parents where she continued her secondary school education at Gwarinpa Secondary School, Federal Capital Territory, Abuja. She also attended the International Institute of Journalism where she studied Journalism. She obtained a Post-Graduate certificate in Advertising and Public Relations.
Mercy studied Digital Story Telling at the Grimme-Institut in Bonn, Germany. She has also studied Media in Peace Keeping Operations and Elections Observation at the Kofi Annan International Peace Keeping Training Center in Accra, Ghana
Abang Mercy is a Nigerian journalist, Environmental consultant and Social media expert. She has gone on several election observation missions on the West African sub-continent. She also runs an interview series, "Conversations with Abang Mercy".
She has worked at Independent Television and Radio, Abuja as a Political correspondent. At ITV Abuja, she worked as a non-linear editor, Presentation director and Producer. One of her programs was a breakfast show, This Morning on ITV.
In the course of her work with Heinrich Boll Foundation, she has done articles and presentations on Nigeria's environmental situation and postulations for the future in several Nigerian cities including Lagos, Abuja and also internationally, in Berlin and London.
She has worked with her fellow African youths and civil societies organisations in lobbying and advocacy with organisations like Oxfam GB Nigeria, West African Civil Society Forum, Heinrich Boell Foundation etc.
Mercy worked as a Media assistant to the former Governor of Cross River State, Governor Donald Duke during his presidential campaigns on the platform of the Donald Duke Campaign Organization.
In 2004, she represented Nigeria alongside other influential Africans lobbying against the Economic Partnership Agreements (EPA) with the European Union and the African and Caribbean Countries (ACP) in Senegal and the Gambia.
In 2014, Mary Abang was a participant of African Union's Third Annual High Level Dialogue on Democracy, Human Rights and Governance in Africa; Trends, Challenges and Prospects that held at Nairobi's Safari Park.
Mercy Abang played a role during preparations for Nigeria's 2015 elections. In September 2014, Mercy anchored a Lagos meeting with young people where she interviewed Nigeria's Former Vice President and a presidential aspirant in the election, Atiku Abubakar.
In March 2015, Mercy hosted a 2-hour live television town hall meeting with the Chairman of the Independent National Electoral Commission (INEC), Mr. Attahiru Jega. She was in working company of the international journalist, Kadaria Ahmed of the BBC.
She is also a contributor at top media organisations in Nigeria like YNaija and EcoJournalism . YNaija is an internet newspaper for young Nigerians whereas Ecojournalism helps in easy writing of essays.
Why we love her:
In Mercy Abang's words, "Challenge is not forgetting who you are and what you stand for". She explains that switching roles at specific times has been a challenge but she has overcome that by specifically defining her roles at every point in time.
Mercy is not biased in her opinions and this has landed her on great platforms. We really do admire the great works she is doing here in Nigeria. We hope our girls and women will learn from her.