About Her:
Linda Chinwetelu is a young Nigerian currently ruling the world of technology. She started from her little corner and is expanding rapidly! She works currently as a software developer at Hotels.ng; an online travel agency founded by Mark Essien that specialises in hotel bookings within Nigeria.
She has a passion for self-development which was fueled by her parents. This has helped to set her on the path to becoming the 'geek' she is today.
Linda has a B.Sc; Second Class Upper in Computer Science and Statistics from the University of Nigeria, Nsukka in 2014.
She is a brilliant web developer who spent most of her university holidays teaching herself using Bucky's Beginner Web Development videos and other learning materials.
She is also proficient with using the following programming languages: JavaScript, PHP, MYSQL, MongoDB. She also likes working with these technologies: Sphinx Git, NodesJs, React JS, jQuery and Linux Servers.
Her Work:
Between August 2013 – December 2013, she worked as a web development Intern at Syscomptech; an Internet service company in Lagos State.
Some of her achievements during the Internship program include creating a classified job ads site using a classified ad Script - Osclass.
She was also responsible for building the 'Employee Profile' and 'Resume Upload' component for a job recruitment website. She helped to co-implement a redesign on the homepage of an Economics Consulting Website and also represented Syscomptech in meetings thus translating Client-User requests for Implementation.
She started working at Hotels.ng in October 2014 as a Software Developer. Her role and achievements here include managing data migration between servers, debugging of legacy codes, building new features, managing outsourced developers and writing PHP code to implement app features. She also writes Structured Query Language (SQL) queries to interact with databases and Client and Server Side JavaScript for different applications depending on specifications. She also played an active role in the refactoring of the code base and a subsequent rewrite.
Linda Chinwetelu's work has been recognized both nationally and internationally;
In February 2014, she emerged as Second runner up in the British Council Culture Shift III Hackathon competition in Nigeria. During the competition, Linda Chinwetelu and her team built an interactive digital image bank to connect the creative industry with an audience.
She also developed a web image upload bank with functionalities which includes Upload, Search, Categorize and Social shares.
In October 2015, she received the Grace Hopper Celebration of Women in Computing (GHC) Scholarship Award under the auspice of the Anita Borg Institute. She was also a volunteer blogger at the GHC.
Why TechHer Loves Her:
Linda's profile is interesting to read. This serves as an inspiration to women, especially young girls. We like her because of her love and interest in self-development.
She once said that she learnt to code because she was determined. In an interview, she talked about knowing what she wanted to do and how she went about it.
"…That was the exact moment, I knew. "I am going to learn how to do that," I said to myself. The next holiday, I got Bucky's Beginner Web Development videos and lot of books on web development. Then, I told my dad that I would need his monetary support to fuel the generator in order to have adequate power supply."
Information gleaned from the Internet.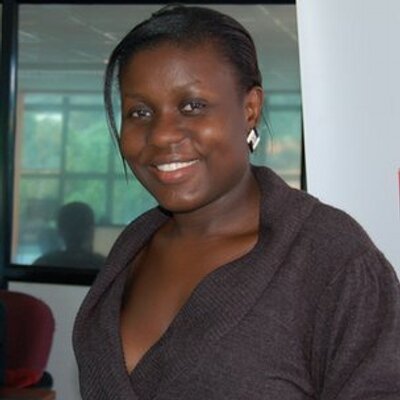 About Her:
Barbara is an award-winning female technologist, a mother of two children and a graduate of Makerere University Business School. She has a Postgraduate degree in Project Planning and Management from Uganda Management Institute. She is a web designer and a social entrepreneur who is focused on how to help women be better at whatever they're doing using technology.
Honors and Awards
She received the Change Agent by Anita Borg Institute in October 2014.
She is the Board Chair of AfriLabs Foundation.
Mrs. Birungi is a member of AISEC.
Her Work:
She started her career as a Research Assistant at Makerere University at the age of 20. She did some research on how to better enable craftswomen get their products online.
Mrs. Birungi is also one of the organizers of the Apps4africa competition in Uganda hosted by Appfrica Labs. She became the Country Manager of Appfrica Labs in February 2009.
In July 2010, she co-founded Hive Co-lab in Kampala, Uganda. Hive Co-lab is a business incubator for start-ups in Uganda. The incubator was established to create a collaborative environment that promotes experimentation of scalable ideas with positive social and economic returns.
She took part in a Makerere university initiative to help rural craft-making women market their produce on the internet. She also aimed at improving their livelihood through counseling, encouragement and teaching practical financial saving skills.
She is also the Founder of Women in Technology, Uganda (WITU) which started in September 2012. WITU seeks to address the gender technological gap through recruitment, encouragement, training, empowerment and career advancement of women in the ICT sector. WITU has taught over 500 young girls and contributed to more than 100 women finding tech jobs.
Mrs. Barbara also creates a Hackathon programmes whereby women design several apps based on identified needs under the WITU umbrella. One of the projects birthed a notable app called Nakazade. The app is a maternal and infant health app that provides information for mothers and traditional birth attendants. Embedded in the app are information relating to pregnancy, health care, use of contraceptive also known as family planning, infant care and immunization schedules local to them.
She also has expertise in Business Development Advisory, Strategic Planning, Project Management and Implementation.
She has two publications on African Women in Business + Tech. BBC, October 1, 2012 and African Women in Tech, UNESCO Journal, Word of Science, April 1, 2013.
Why TechHer Loves Her:
She has empowered women based on the lack of support group for women in the technology industry in Uganda. Mrs. Barbara has highly impacted the economy of Uganda and created solutions to some of its challenges in areas of unemployment, digital gender divide, health and technology.
In an interview with AFKInsider, Mrs Birungi outlined her vision succinctly. My hopes for Hive Colab and WITU are highly to impact Uganda's youth to think differently and create their own solutions to many of Uganda's challenges. These challenges include unemployment, poor governance, health and infrastructure among others. I want WITU to bring the digital gender divide down to 50/50 by 2023 by helping to raise a new generation of girls that think differently about technology than the current generation.
She is a role model to other women working or aspiring towards mastery of digital technology.