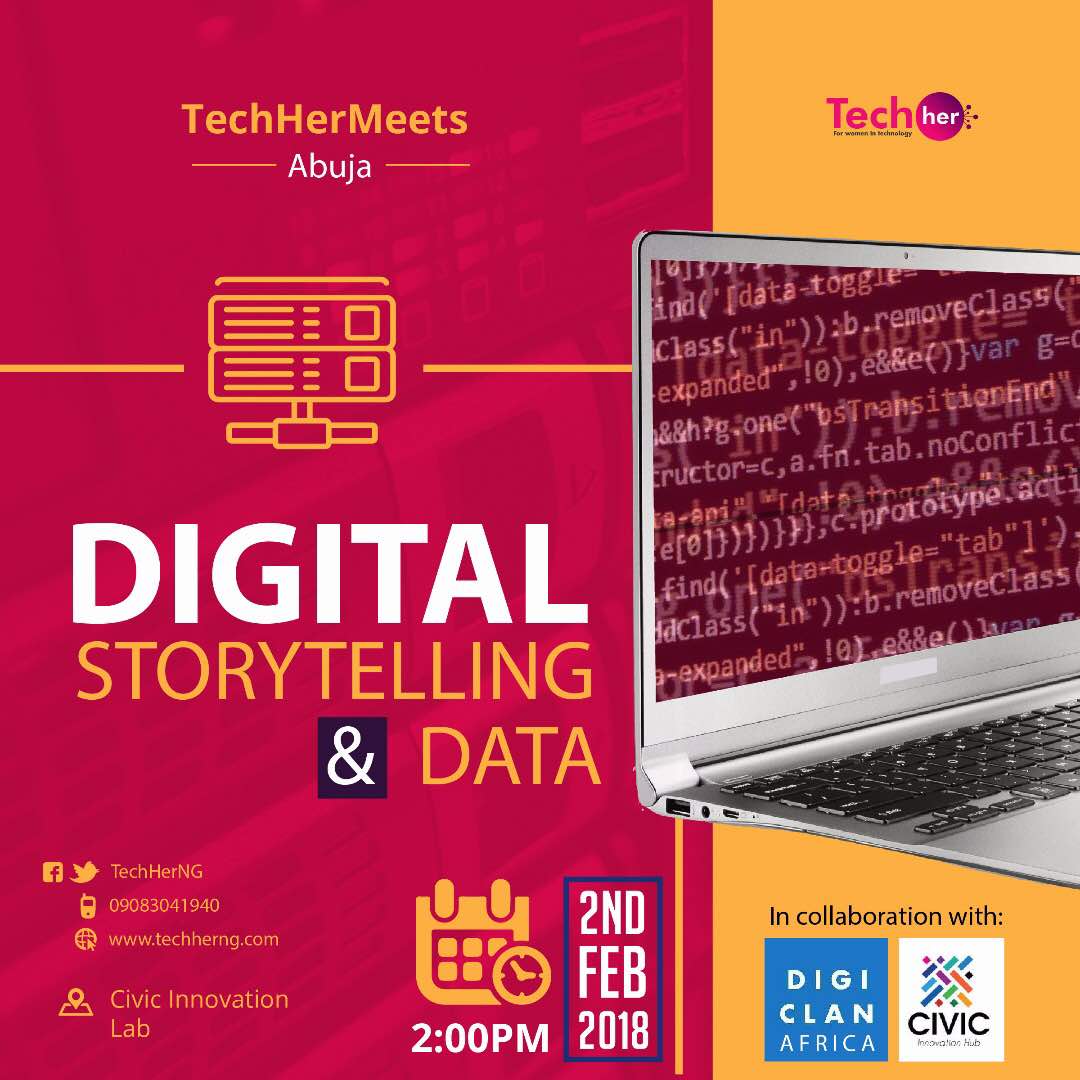 TechHerNG, a social enterprise for women in tech engages fellow women within the sector by providing a safe space for demystifying technology through TechHerMeets.  TechHerMeets holds every first Friday of the month and has been in existence since March 2017. It has helped attendees learn new skills, make valuable connections and have access to one on one mentoring.
This month edition is in collaboration with DigiClanAfrica and Civic Innovation Lab. The DigiClan community  is a community of people working in the Digital Media industry committed to the growth of the Industry, to learn from each other, to collaborate, to foster networking between members, to inspire growth in the Industry and set standards that will ensure that we all grow together.
The meetup will focus more on training the community members on using digital marketing skills to drive growth within the business sector across Africa.   The theme for the event is "Digital storytelling and Data." ,  We have amazing lined up trainers for the 2 hours intensive digital marketing session.
Our trainers for the day is Muyiwa Alesh who will be  training on Content Strategy, Ized Uanikhehi - Content Marketing, Ken Ndubisi  core strength is on effective Facebook Advertising while  Caroline Wabara will delve into  using Search Engine Optimization.
The event is scheduled to hold at the Civic Innovation Lab, No 50, Ademola Adetokunbo Crescent, Wuse 2 Abuja, on Friday, 2nd of February, 2017.  Click on the  link for registration. Attendance is free! It is a free day of learning, innovation and using strategic concept  to enhance the use of digital skills in your business. We've got snacks ,and swag items for the first 5 attendees.
Remember to come with your complementary cards, your next gig might be from this event! Time to learn together.
For more information you can always call our Program manager -Lara Raji on 09083041940 or visit our social media handles; we are @TechHerNG on socials, we are one DM away from you.