With over a decade of experience working in digital technology across multiple industries, Ebi Awatodi, at just 33 years, has had a career many only dream of.
Her areas of expertise include marketing communications, brand strategy, digital /new media, product activation, brand amplification and corporate sponsorships, in addition to working as an engineer, software developer and interactive designer.
Ebi was born in Lagos, Nigeria but spent most of her childhood living in different countries around the world because of her father's career as a Nigerian Airforce officer.
She studied Electrical and Electronics Engineering at the University of Nottingham, United Kingdom and holds a master's degree in computing around artificial intelligence and visualisation of information from Imperial College, London.
She began her career as what she calls an 'advent technologist', working as a software developer for the first five years of her career. She co-founded a business start-up called Connect2Car where her team built a mobile application that allowed people to interface with their cars. After her time with Connect2Car, she worked with a number of agencies which focused on enterprise, website development and mobile platforms. She quickly moved from creating software to leading the teams that made the software. After a series of high profile jobs, Ebi started a job as Head of Corporate Communications as well as Head of Events and Sponsorships for Etisalat, Nigeria. During her time there, she created and executed the idea for the Etisalat Prize for Literature, which rose to become Africa's most prestigious literary prize. She also created the Etisalat Music platform.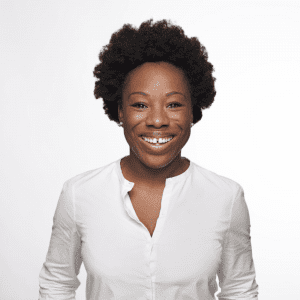 In 2014, Ebi started out with Uber as General Manager for Lagos and grew to become Uber's General Manager for West Africa. During her time as General Manager of Uber, Lagos, Ebi introduced the inclusion of cash payments for riders in Lagos, a move that was crucial to Uber's penetration in Nigeria. Under her leadership, Uber Lagos recorded a 10-times growth in the company's supply within six months, as well as a hundred-fold growth in demand. While she was the General Manager for Uber West Africa, Uber's business grew from 15 cars on day one to become a top 20 market in the EMEA region, served as a pilot market for various product launches and passed the first ever motion on ridesharing in Africa. She was also the Product Manager, Global Payments Growth for Uber worldwide.
She is currently the Senior Product Manager at Uber worldwide where she leads the Amsterdam Money Product team, 'a multi-disciplinary team of over 100 product managers, engineers, designers, data scientists and UX researchers making payments more magical for Uber customers globally'.
#TechHer loves her because she is a shining example of the value of passion, ambition and hard work.