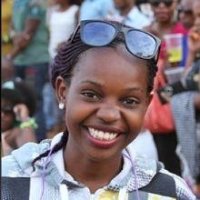 About Her:
Viola Nuwaha is an Ugandan Information and Communications Technology for Development (ICT4D) expert, a programmer and a rural development enthusiast. Many caps on this lady! She attended the Mary Hills High School in Uganda and graduated with a B.Sc in Computer Science from the prestigious Makerere University in Uganda in 2013.
Viola Nuwaha has always loved computers starting the age of 10. She would play with them on frequent trips to her mother's office. There's no doubt about the fact that an early exposure to computers and her sheer determination really helped in broadening her horizons and shaping her career in the field of Information and Communications Technology.
Her Work:
Viola is passionate about using technology to provide solutions that would improve and impact on the lives of rural dwellers in Uganda. This shines through the roles she has taken;
Between June 2012–September 2012, she worked as an Intern at the College of Health Sciences, Makerere University, Uganda.
Between November 2013–April 2014, she worked as Programs Assistant at Women In Technology Uganda (WITU). She helped co-ordinate various activities and implemented well tailored technological programs.
She also spent some time at Hive Co-Lab; an incubation space that midwived WITU (Women in Technology Uganda). The sister firms operate in the same hub.
She is currently the social media manager at Techjaja; a position she has held since 2nd December 2013.
Since May 2014, she has been working at Farm Radio International - Radios Rurales Internationales as a Junior ICT officer/developer. Her role includes assisting Farm Radio International  in the designing of modern ICT approaches and strategies. She has also helped in training and empowering broadcasters on the best possible methods to fuse technology in the presentation of radio shows and other programs to ensure an efficient dual conversational framework.
Viola Nuwaha is proficient with the Ubuntu operating system, graphic designing, web development, computer & network security, social media and blogging. She strives for opportunities to inspire young females to aspire and achieve more in technology.
In 2014, Viola worked with Flavia Tumusiime, Dr Consolata Kabonesa, Dr Ruth Nsibarano and a few others to counsel and mentor a team of female students for the Technovation Challenge. This is a platform which motivates girls to become creators of technology instead of  just being users.
Viola Nuwaha has also mentored young programmers and organized series of Ubuntu workshop classes for young girls in Uganda who are keen on knowing more about how technology works. She is also a regular at Hackathon events where she contributes knowledge, skill and tons of support!
Why TechHer Loves Her:
She is an amazing embodiment of both talent and motivation to women, especially to young girls. She has been able to prove that nothing is impossible for women to achieve. The geographical location or where we come from have nothing on a strong will to excel. On several occasions, via the blog site of Farm Radio International; Viola Nuwaha discusses the challenges women in technology face, but goes beyond that to provide solutions.
Information gleaned from the Internet