Moyinoluwa Adeyemi is an app developer, tech enthusiast and blogger from Ogun State, Nigeria. Moyin's love for technology and her passion to use it to solve problems has led her to create more than 7 mobile apps that provide innovative solutions to a myriad of problems. Her apps have tackled everything from tourism to education to social interactions. She has also worked as a software engineer.
She has a B.Sc. in Mathematics and Computer science from the Obafemi Awolowo University, Ile-Ife alongside certificates in Oracle and apps development from Udacity.
In 2016, she created an app that tells the time in Yoruba which is available on android platforms. She is currently an android developer at Off.Grid:Electric where she is part of a team working on an app that enables people in Sub-Saharan Africa to have access to clean energy.
Some of the apps she has worked on include Tour9ja, created in 2012. It is an android app that allows tourists/natives in Nigeria to know more about the states in Nigeria. Moyinoluwa was part of the team that created the application. In October 2013, she developed a web application/android mobile app called 'Efficacy' at the National Software Competition, where she emerged as the 1st runner up. Efficacy was designed to detect counterfeit drugs in Nigeria. She was also part of the team that developed an educational app called "Kawe" (which means read in Yoruba language). Kawe came in 2nd place at Google ILO.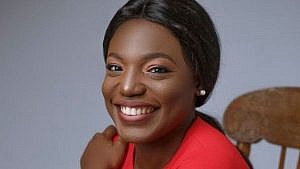 In November 2013, Moyinoluwa and two of her colleagues, Adeyemi Olaoye and Adegoke Obasa created another app called "Molebi" (meaning family). The app was created with the intent to connect families. The application allows you to add your family members from all social networks and then create a family tree.
Moyin is also very passionate about increasing the visibility of girls and women in technology. She started the first Women Techmakers group in Nigeria at her university in 2013 and she regularly organizes and hosts conferences for the Google Developers Group in Lagos.
She loves learning and sharing her knowledge about technology; she helps young girls get started with programming and she has a blog where she talks about a variety of tech related issues and the latest in tech news.
Moyin is currently a senior andriod developer at ZOLA Electric, a company working on the frontlines to make clean, reliable and affordable energy available to all.
#TechHer loves her because Moyinoluwa is an inspiration to young women thinking about a career in technology. As she always says, "We want more women with laptop bags". She craves to see more women in technology inventing great and brilliant ideas. She is also proof that hard work pays.
The Young Feminist Fund is the only youth-led fund focused exclusively on supporting global young feminist activism to advance social justice movements and agendas. FRIDA was created to bring new resources and new opportunities to young women and trans* youth globally. We believe that supporting young feminists is key to the expansion, rejuvenation and sustainability of women's movements and organizations, both now and in the future. To date, FRIDA has completed three grant cycles since 2012, and cumulatively supported 57 different groups of young feminists in 47 different countries around the world and awarding a total of 437,000 USD in direct grants.
DEADLINE FOR APPLICATIONS: 14th September 2015
Who can apply?
Groups founded or led by young women or trans* youth (under 30 years) that are committed to:

Advancing and defending women's rights from a feminist perspective;
Improving the lives of young women/trans* youth at local, national, regional or international levels;
Inclusive organizing, collective action and feminist movement building
Groups, networks, or collectives based in the Global South (Africa, Asia and the Pacific, The Middle East, Latin America and the Caribbean and Central, Southern, Eastern Europe and Caucuses and Central Asia).
Groups founded in the past 6 years (i.e. your group was formed between 2009 – 2015).
After voting the results are tallied and grantees are selected.
More information is available here - http://youngfeministfund.org/apply-for-a-grant/