To say that Judith Owigar's work is revolutionary would be massively understating it. As one of Kenya's foremost social entrepreneurs, Judith is working on the frontlines to ensure that there is a significant increase in the number of women and girls working and thriving in the tech ecosystem in Africa.
Judith is the co-founder and president of AkiraChix, a social enterprise radically changing the lives of women in East Africa by providing training, mentorship, and outreach programs for women in technology. She and her friends started AkiraChix in response to the challenges and outright bias they faced as women working in the tech space in Africa. They created AkiraChix as a way to provide a space where women could come together and learn from each other. Judith's work with AkiraChix has been a significant boost for women innovators in Africa. AkiraChix's vision to 'nurture generations of women who use technology to develop innovations and solutions for Africa' has contributed immensely to empowering women in Africa both technologically and financially and has enabled women serve and lead their communities.
Judith Owigar is Kenyan by birth. She attended the University of Nairobi where she graduated with a degree and a master's degree both in Computer Science.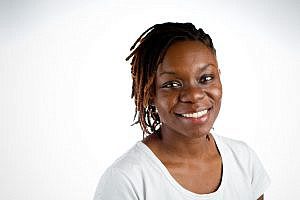 Judith started her career as a tech support specialist at Turnkey Africa, a Kenya based company that provides solution to insurance and banks in Africa. In April 2008, she moved to Ibid Labs where she worked as a developer. Miss Owigar has also worked with the Japan Center for Conflict Prevention. In 2010, she attended iHUB'S maiden launch (iHUB is an innovation hub for the technology community in Nairobi) and noticed they were only a few ladies in attendance. This prompted her and her friends to co-found AKIRACHIX as a way to increase the ratio of women to men in technology. Programs at the organization are developed to reach young women at different levels including but not restricted to Primary Schools, High Schools and Universities; there are also programs for those working in the technology field and those who wish to have a career in technology.
In 2012, Judith founded Juakali, (which means GET IT DONE in Swahili) an online platform that creates opportunities for low income earners to have a better livelihood. The platform serves as a link between skilled manual workers from Kenya's informal sector and jobs in construction companies. Through JuaKali, Judith is pioneering an original model to increase employment in Kenya through building the capacities of the informal economy.
Judith has received a number of recognitions and honors for her work, notable among them are the Anita Borg Change Agent award in 2012, the top 40 women under 40 award for women who have made a significant impact on Kenya, economically and socially. She is an East Africa Acumen Fellow and an International Focus Fellow. She was listed as one of 10 African voices to follow on Twitter by CNN. She was a speaker at the renowned Grace Hopper Celebration of Women in Computing to the Global Entrepreneurship Summit in 2015 where she shared the stage with Former US President Barack Obama and President Uhuru Kenyatta of Kenya.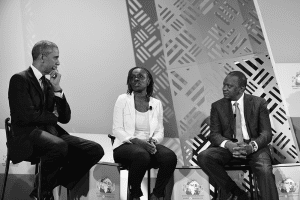 Judith currently serves in Africa WeTech (Women Enhancing Technology) Leadership Council and the St. George's Primary School Alumni Association.
#TechHer loves Judith Owigar because she is passionate about technology and believes there should be no stereotype in the tech industry. Judith's work provides an entry point for many women and girls who may want to enter the IT/Tech industry but feel discouraged because of the prevalent male dominance in the industry. We see her as a role model/ mentor to women and girls who want to identify their potential in the tech field. Also, her support for other young women in the field by creating training sessions to empower them with skills like coding, web development and technical skills truly excites us here at TechHer!
Gladys King'ori is a former banker and Fintech Entrepreneur; she is transforming the financial services in Kenya through technology. She is passionate about financial service inclusion, access and delivery in Africa. Gladys' background in providing financial services has spanned 11 years, working in many sectors including business, public and private service. She serves as an inspiration to women who aspire to break new grounds in technology.   (more…)
Sylvia Mukasa has done a lot of good work around technology. She is from Kenya, Nairobi and a graduate of Economics from Egerton University. She bagged her M.sc in E-Business from University of East Anglia in 2002.
She is a certified chartered accountant by Kaplan FTC Birmingham.
She also has certificates in Strategic Thinking Skills, VSP-SV(Server Virtualization 5.5 , VSP-NV(Network Virtualization 1.0), VSP - BC (Business Continuity 5.8), VSP 2015VSP - MO (Management Operations 6), VOP-CP (Cloud Provider) ,VSP - CP (Cloud Provider), and VSP 5.5.
Sylvia Mukasa has hands-on experience in various fields but to mention a few: Business Development, Balanced Scorecard & Performance Management, Market Research & Analysis,and Tactical Marketing.
She has bagged several awards and honors such as:
The current Next Einstein Forum Ambassador representing Kenya. Ms Mukasa's "Afya Mama", came third at the Young Einstein forum in March, 2016. Sylvia Mukasa pitched an idea of using mobile phones to provide women with better information about health issues surrounding pregnancy, immunization, family planning and HIV/AIDS
In May 2014, her team was among the finalist of over 200 applicants, who participated in the Kenya Feed the Future Innovation Engine.
In 2014, she became one of the Techwomen Fellow and Honoree.
In 2011, she was awarded a local innovative grant by the World Bank and Kenyan's ICT Board to develop an Interactive Voice interface that would allow the tax payers to access information about taxation as pre-recorded voice, using any mobile phone.
She was also selected as Africa's emerging Tech woman leader; an initiative of the US Department of State Bureau of Educational and cultural affairs.
She was also nominated Ericsson's Innovation Coach: helping to coach employees who have innovative ideas in Sub-Sahara Africa.
In 2015, Sylvia was recognized at the GES summit in Nairobi, by Maria Contereras- Sweet as one of Kenya's female contributor in the entrepreneurial tech space.
Her Work:
In 2015, she was a delegate for UNESCO who strategized the framework for Transform Africa Summit. The workshop was aimed at empowering and offering young African women entrepreneurs a quality training on how to develop, market and promote mobile Apps.
She served as the regional ambassador for Technovation Kenya; a tech entrepreneurship program and competition for young women in developing mobile Apps
From January 2011 – September 2012, she was the strategic planning manager for the Sub-Saharan Africa Region at Ericsson.
In 2012, she founded Globalx Investments Limited out of her passion to use technology in solving business issues as well as provide solutions with a social impact using ICT and Telecomms. The core business of Globalx is to provide high-end consultancy in technology and telecommunication.
In 2008, she joined FSS/Telecloud ­(FSS deals with the provision of VOIP and business consulting on VOIP/Interactive Voice Response technologies mainly for SMEs ) as their strategy and business development expert, and worked for a period of 2 years and 4 month.
Sylvia worked in United Kingdom at Nestor Healthcare Group Plc, as the finance and business developer between January 2005 to July 2008.
In 2004, she founded Empire Global Services UK; an organization hinged on providing outsourced services on international VoIP calling cards and termination
Between 2001-2002, she worked as an office administrator at Norwich Union International.
Why TechHer Loves Her:
She is passionate about her beliefs: which is engaging more young people to discover their inherent talents, and focus on what they do best.
Betty Mwangi graduated in 1990 with a degree in Electrical and electronic engineering from Victoria University of Manchester, UK. She also obtained a Diploma in Marketing, Chartered Institute of Marketing from International College, London, UK in 1993. She also completed her MBA in 2014 from University of Leicester, UK.
From 2007 to 2016, Betty Mwangi has worked as both Chief Officer – New Products and Services Division and currently as the General Manager for Financial Services at Safaricom. Safaricom provides voice, data, financial services and enterprise solutions for a range of subscribers, small businesses and government, using a variety of platforms. They are also the founders of mobile−money juggernaut; M−PESA service. M-PESA was not conceived as a standardized mobile-money service. Instead, it evolved organically on the streets of Kenyan cities and villages. M-PESA has dramatically changed both the global mobile-money market and daily Kenyan life. It has made the streets safer, empowered women and spurred economic development, from deepening the credit market to making long-distance money transfers cheaper and easier for everyone.
M-PESA was only a micromicrofinance project, funded jointly by Vodafone and the British Government. However, M-PESA subscribers started using the service to transfer money between themselves, filling a newly obvious gap in the Kenyan financial services sector. With a user base of more than 15 million subscribers, M−PESA is both raking in revenue and extending financial services to entirely new sectors of the population.
In August 2011, Betty was recognized as one of the TOP 10 African Women in ICT by the ITNewsAfrica.
In December 2011, she was awarded the Moran of the Order of the Burning Spear by President Mwai Kibaki in recognition of her contribution to Kenya's information, communication and technology (ICT) sector.
In June 2010, Betty was featured by Mobile Communications International (MCI) as one of the top 10 women in mobile globally.
From 2002-2007, she was Chief Marketing Officer at Afsat Communications Limited. She was responsible for developing and managing the distributor network for the iWay business in 26 African countries.
In 2013, she was named one of Africa's 20 most influential women in technology.
From 2001–2002, She worked at Medex Marketing as the Managing Director, Nairobi. She also has experience in International, Demand Management and Special Projects when she worked with SmithKline Beecham between 1996 and 2001.
From 1993-1996, she was the Manager at Telephones Division of Wilken.
From records, Betty Mwangi-Thuo has over 16 years of experience in the telecommunication industry.
Why we love her
Betty Mwangi-Thuo has been credited with spearheading Safaricom's globally recognised mobile money transfer service; M-PESA. M-PESA's revenue doubled under Betty's regime as General Manager. They hit Sh 32.63 Billion in march 2015 when compared to year 2012 when they made Sh 16.87. She is definitely smart, innovative and a goal- getter who delivers smart results at every point in time. This is something we value at TechHer.
Nanjira Sambuli is a mathematician, new media strategist and technology enthusiast based in Nairobi, Kenya. She's a keen observer on how technology is impacting governance, media and culture. With iHub Research, Nanjira has developed a framework for assessing the viability, verification, and validity of crowd-sourcing information for her projects. One of them is Umati, an online dangerous speech monitoring project currently running in Kenya and Nigeria. Another is a publication on ICT and Governance (Civic Tech Landscape) in East Africa.
Sambuli has worked with organizations such as UNEP, Africans Act 4 Africa, and Global Power Shift, on their pan-African and international new media based campaigns. On the technology front, Nanjira is the editor of Innovative Africa: The new face of Africa tech essays collection.
Her Work: A Woman of many parts
She is presently on of the Board of Trustees of mySociety in London, United Kingdom. They build online technologies that give people the power to get things changed, and we share these technologies so that they can be used anywhere.
She is a Member of the Board at Media Policy Research Centre and also an advisory board member for SUMOFUS.
From January 2016-April 2016, she was the Research Lead iHub Nairobi, overseeing the mandate, and leading a team of talented researchers towards driving local tech research in East Africa.
Between August 2014- April 2016, she was the Network Co-Coordinator for Open and Collaborative Science in Development Network.
At iHub Nairobi she worked on developing a framework for the viability of election-centered on crowd-sourcing, with the 2013 Kenyan general elections as a case study. The report and framework can be found here.
Nanjira also worked on the Umati project, which seeks to identify and understand the use of dangerous speech in the Kenyan online space in order to find and use non-government ways to reduce its effects of violence in Kenya.
From May 2012-July 2012, she consulted for UNEP, on social media usage for World Environment Day 2012 and the Rio+20 Summit.
In September 2011, she worked on setting up and rejuvenating Sandstorm online customer service, online presence/interaction, and digital marketing.
In November 2010, she handled the online presence and communication for Nairobi Kinanda Arts Festival.
Why TechHer Loves Her:
What isn't there to love? Nanjira is a dynamic young woman. She understands the unfolding impact of ICT adoption in governance, entrepreneurship, innovation and societal culture across the African continent.
Sitawa Wafula is a nomadic mental health crusader on a mission to renew minds. She is from Kenya in East-Africa. She is the founding executive director of My Mind, My Funk, a mental health hub that ran Kenya's first free mental health support line. She was a student of Actuarial science at University of Nairobi, Kenya before she dropped out in 2005 due to seizures. These are some of her achievements:
She has a certificate in Mental Health Advocacy from BasicNeeds UK in Kenya.
In 2016, she bagged a Postgraduate certificate from Amani Institute.
She is an active blogger and a weekly online radio contributor for EAT online and South Africa's Radio Junto.
She uses her journey as a rape survivor living with epilepsy and bipolar disorder to provide information and support to deal with life and manage mental health conditions.
She was named a non-communicable disease champion by Kenya's Ministry of Health.
She is also a winner of Google Africa Connected 2014.
In July 2013, she was the winner of the East Africa Philanthropy Awards.
In December 2013, she was awarded Activist of the Year by Malaika Trust.

Sitawa was recognized by Business Daily and named among the Top 40 Women Under 40 in Kenya.

She is also an Aspen Institute New Voices fellow.
Her Work:
In 2010, she started a blog called sitawa.blogspot.co.ke to document her recovery journey and experience as a rape survivor living with a dual diagnosis of epilepsy and bipolar.
In March she launched an online project called "Purple Day Online Campaign". This is an online campaign to have people in Kenya wear something purple, take a picture and spiral conversation about epilepsy. The huge success recorded led the organizers of International Purple Day to adopt the project.
She was a blog contributor on mental health articles for Africa Health Magazine from October 2012- September 2013. She also founded My Mind, My Funk (MMMF) in September 2013, a mental health social enterprise that provides information and support to people living with mental health conditions and their families. MMMF ran Kenya's first FREE mental health text line 22214 from Sept 2014 - Sept 2015.
In February 2015, she joined an online radio station called Radio junto where she started a weekly programme that discusses the role of technology in various spheres of African living.
Sitawa runs a community mental health program where participants share their stories through digital storytelling and writing therapy.
She has publications on AllAfrica.com, Mail & Guardian and NPR:Africa on:
As Internet Access Expands in Africa, so does Cyber Harassment.
Psychological scars have yet to heal for victims of Kenya's election violence.
When I Was Diagnosed with Bipolar Disorder, People Thought I Was Cursed.
Why TechHer Loves Her:
She turned her experience as a rape survivor with a dual diagnosis of epilepsy and bipolar into a mental health information and support hub. She accomplished this by leveraging on digital platforms to provide information and support for Kenyans.
Hilda Moraa is a Kenyan with a B.Sc. in Business Information Technology from Strathmore University. She obtained a Masters in Entrepreneurship from Jomo Kenyatta University of Agriculture and Technology (JKUAT), Kenya.
By research, Hilda published and wrote numerous research papers and journals on the thematic focus of ICT, development and entrepreneurship. She is also the author of "A Kenyan Startup Journey". She became a millionaire at 26.
Hilda is a co-founder at WezaTele Limited, a leading provider of innovative and mobile solutions in the supply chain, distribution and financial solutions in Kenya. Miss Moraa has over 5 years' experience in technology, market research, entrepreneurship, and distribution of FMCGs in emerging markets in Kenya.
These are Moraa's awards:
In 2011, her project M-order won the best application in the Mobile Boot competition. Watch the video http://www.strathmore.edu/oldsite/News.php?NewsID=49
In 2015, she was profiled as one of the successful young female entrepreneur in the Tech & Innovation space under the prestigious award of "Top 40 under 40" by Business Daily.
In July 2015, she was invited as the Keynote speaker of the Global Entrepreneurship Summit 2015, where she got the privilege to speak and address a global audience including His Excellency President of United States Barack Obama.
In 2016, she was mentioned by Forbes Africa, as one of Kenyans 30 Most Promising Young African Entrepreneurs of 2016.
Her Work
From May 2009-September 2010, she worked as a Master Data Analyst for Coca-Cola; a global beverage and distribution company. She saw the challenges they faced within their distribution systems and decided to develop an ordering solution prototype as her final year project.
In October 2010, she dedicated her time to training and mentoring the Keri Residents. These were students from Strathmore University looking for advice and guidance in IT, programming skills and basic IT management skills to allow them innovate and grow viable businesses.
In January 2012, she founded AfriHive; a content hub and one stop shop for co-working spaces across Africa to access useful resources, services and lesson as to remain sustainable in the long run.
She was the Strategist and Senior ICT Researcher for iHub Nairobi from August 2011-December 2013. At iHub; a local innovation hub for the technology community, the 22-year-old Hilda met Sam Kitonyi and Newton. Hilda, Sam and Newton founded WezaTele Limited.
WezaTele started by building mobility solutions for commerce, supply chain, distribution, and mobile payment integration. Their first product; My order Enterprise solution; is a mobile customized solution that facilitates supply chain, circulation and distribution visibility. Hilda's team grew from just two people to a full organization of over ten employees.
In 2013, Weza Tele won the IBM global smart camp competition at the Tech4Africa conference. By 2014, Weza Tele had worked with several SME's in many countries including Kenya, Nigeria, Tanzania and Zimbabwe.
Miss Moraa started sharing her opinions, facts and experiences in the tech entrepreneurship ecosystem through Vc4Africa network.
Hilda founded a Kenya tech entrepreneurship network called Kenya Tech Entrepreneurship Virtual Network in July 2015. The network stemmed from the need of sharing local startup experience, knowledge and lessons to ensuring the young people are building scalable and valuable startups. These of course are to impact positively with return on investments. Since July, the network has grown with more than 100 tech start-ups in Kenya.
In June 2015, she became a consultant at FinTech; she worked with SME's and startups on challenging opportunities in the Innovation and Fintech sector.
Miss Mora started running a peer mentorship series with iBizAfrica in April 2016. She shared her experiences, lessons and support to incubatees among other young upcoming/early stage entrepreneurs. She did this to encourage, empower and support in growing their ideas and businesses in the right direction from an early stage.
Presently, she works as the Managing Director/Business and Product Development Officer for PesaZatu which means "our money" in Swahilli. PesaZatu is a leading peer to peer/mobile lending market place in Kenya and Sub-Saharan Africa.
Why TechHer Loves Her
She is a problem solver, her entrepreneurial passion and drive is ignited every day due to the failures and successes she has encountered. Miss Moraa is an achiever and an extraordinaire who believes now is an incredible time for us young people to shine and do amazing things to impact our society/community.
Information gleaned from the Internet.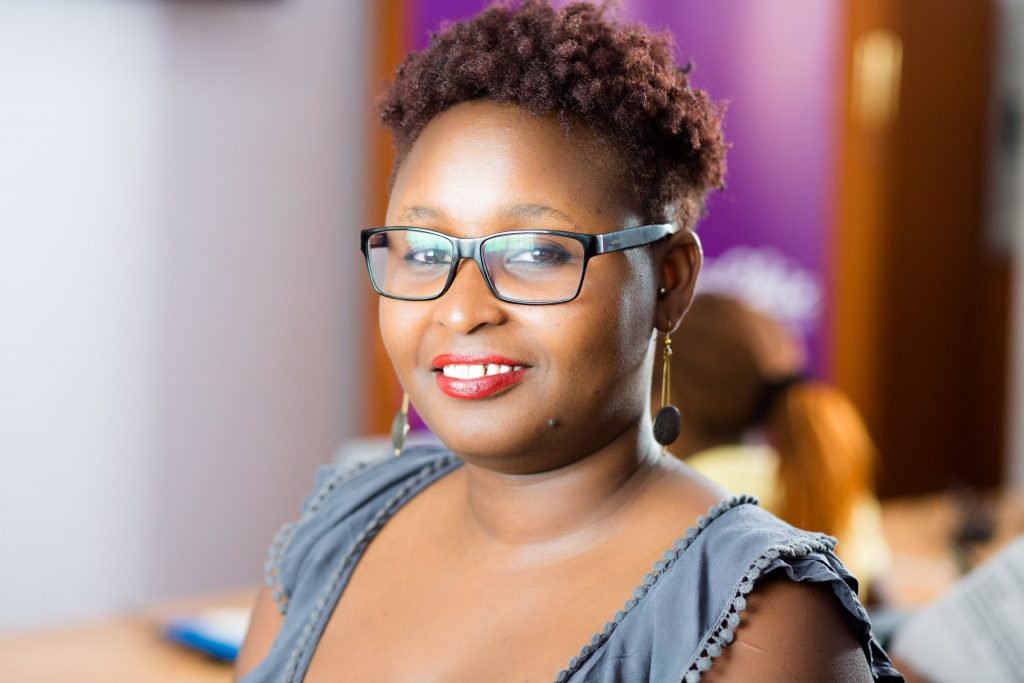 About Her:
Miss Marie Githinji, a 32 year old Kenyan nationale is the Co-founder of two groundbreaking startups called eLimu and Akirachix. She is very passionate about IT and inspires innovation among women working in this space. She is an IT Freelancer, coder, facilitator and speaker at leadership camps. She enjoys Cricket and her favorite player is Sachin. Miss Githinji loves her job because there is always something new to discover and learn every bit of the way; the casual factor of wearing jeans and t-shirts and the change that happens in the industry at the speed of light.
In her spare time, she loves watching movies. Marie got interested in programming while she was in high school and she figured out the career path to follow.
She has a Diploma in Business Information Technology.

A software developer for both web and mobile application.

Marie was a speaker at Webit Congress in Istanbul, Turkey in 2013.

She was part of those that hosted the Girls on ICT Celebration Day in April 2014 at iHub's premises in Nairobi, Kenya.
Her Work:
Miss Githiniji is a co-founder and Outreach/Communication Advisor at Akirachix; a networking, mentor-ship and training platform for women interested in technology. They started off with 8 women and presently they have more than 800 women on their mailing list.  It is a social enterprise to teach girls and women tech skills.
eLime is a platform she co-founded to help Kenya primary school children learn by using a rich digital content such as Quiz and Animation that simply explains financial literacy, Civic and Social lesson on Citizenship and Kenyan's constitution. It is one of the most talked about EdTech innovations in Africa.
The project is piloted in four schools and several libraries in Kenya.The website contains thousands of lessons.
She is also a Program Manager of Infonet; a technology innovation facility that empowers citizens and civil societies in service delivery and democratic governance with the aid of technology.
While working at Infonet in December 2013, she led a team that created a budget tracking tool called 'Ugatuzi'. Ugatuzi helps citizens engage in public finance management. Ugantuzi also attempts to provide an open data system and information platform for citizens to actively engage in such process beyond being whistle blower's.
She also worked for an NGO called Social Development Network (SODNET).
Marie worked with Ushahidi as a senior developer. Ushahidi is a non-profit tech company that develops free and open-source software. Ushahidi was developed to map the post-election violence in Kenya. She was part of a team of 24 that managed the "Testing and User Experience Feedback" of Ushahidi Version 3.0 alongside its re-branded website.
Why TechHer Loves Her.
Marie is not intimidated by the male dominated industry. Rather, she puts in more energy and has so much drive to influence her society positively through technology.
Her zest and intelligence to have more women embracing technology and use it as a tool to solve societal problems has been portrayed through several successful programs; free training's on IT courses and other platforms she has co-founded.
About Her:
Teresa Mbagaya is a young enterprising woman from Zimbabwe and an activist born in Kenya, Nairobi. The 28 year-old holds a Bachelors degree from Yale University. She attended London School of Economics and Politics Sciences. She also has a certificate in Advanced Arabic from SIT Graduate Institute in Washington DC.
She is a member of Management Leadership for Tomorrow, Africa Leadership Network, Yale Black Alumni Association and an Advisory Board member for Muzinda Umuzi Hub (Zimbabwe's first entrepreneurship and innovation Hub).
Miss Teresa Mbagaya is passionate and driven about education technology and has received notable awards and scholarships for being zestful in the cause she cares about.
She received a youth scholarship of $1,000 from Hudson River Fisherman's Association in 2006.
Teresa received an Eagle Scholar Awards from Yale University having inspired her classmate through kindness, dedication and courage.
In 2012, she was one of the youngest of 15 Google Reach participant selected from over 250 global participants to take part in a leadership development assignment in India.
In October 2015, she was named as one of the most 30 Promising Young Entrepreneurs in Africa by Forbes Magazine.
Miss Mbagaya was nominated recently for The Future Awards Africa Person of the Year, 2015.
Her Work:
In 2006, Teresa Mbagaya Co-founded Bidii Children Foundation. Bidii is a non-profit dedicated to promoting education in rural area of Bungoma; a district in Western Kenya.  
She started pursuing her career in technology at Google Inc. in the United State of America in 2010. She worked in various capacities at Google. She was the account manager for education. It was her responsibility to provide market solutions to global education clients, manage annual revenues of $80-100M, and design short and long term strategies for such entities.
After being selected as the one of the youngest to participate in the Google Reach Leadership Program, she worked as an Outreach and Business Consultant in New-Delhi India over a period of 2 months. She led outreach projects including: consulting projects with non-profit, developing marketing and social strategies for educational institutions and capacity building training for various civil society organizations.
She also worked as Project Manager and Product Marketer at Google Inc. where she organized the first of its kind. She organised technology education conference for thousands of students and educators across the globe. The aim was to bring more users to products like Google+ and Hangout on Air.
In May 2013, she was appointed team lead for the development of Econet Education in Zimbabwe. She was the youngest of all the executives in the organisation. Econect Education is a sub-section of Econet Wireless Group which aims to research, develop, deploy and launch overlay services through mobile-based application to impact on students.
She also launched an education platform called EcoSchool that provides on-the-go and reliable access to educational materials through an EcoSchool tablet.
Under her supervision at the organization, they launched a platform called EcoSchool Academy which offers interactive mobile courses covering over 50 topics.
She also spearheaded a Group initiative called Econet Zero to 5M Econet Broadband for subscribers enabling zero-rated access to 50+ education website including Codecademy, EdX, Coursera amongst others.
Presently, Teresa is the Education lead for Microsoft for East and South Africa.
Why TechHer Loves Her:
Teresa Mbagaya has been able to enhance the education system for Africans by efficiently utilizing technology in a way that both benefits her and those around her. We are so proud of her hard work!