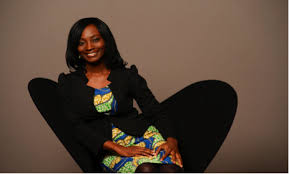 About Her:
Anne Amuzu-Ewoenam is a Ghanaian technology entrepreneur; a young, dynamic and vibrant woman who has created a niche for herself in the ICT sector. In 2014 she was ranked on Forbes's list, as one of the 10 female tech founders to watch in Africa.
Anne is popular as being the co-founder of Nandimobile; a company that develops software that enables companies to deliver customer support and information via mobile phones.
She studied Computer Engineering from Kwame Nkrumah University of Science and Technology, Kumasi. She holds a certificate in Software Entrepreneur from Ghana Meltwater Entrepreneurial school of Technology (MEST).
Her Work:
She co-founded Nandimobile in 2010 with other two students from MEST called Michael Dakwa and Edward Amartey-Tagoe. The software company was launched to serve technological needs of organizations and businesses in Ghana. She said this of the development process, "It was a long process. We went through a lot of refinements, so by the time the actual product was out, it was something people wanted. So yeah that has been the trend. We have been very, very big on getting feedback from our customers since they are the ones going to use it."
In 2010, Nandimobile's maiden product 'Gripeline' was said to solve a world wide problem and was awarded the Best Business at the Rising Talent launch conference in San Francisco. Nandimobile has gone on to win various other awards within and outside Ghana. Anne has also graced panels across several continents.
Anne Amuzu-Ewoenam was also part of the team that developed an app called Keni. Keni helps to give people an easy access to varieties of essential services like banks and ATM's, fuel stations, health services, pharmacies and shops in Ghana.
Miss Amuzu was part of the #IlooklikeanEngineer campaign on social media. The campaign sought to bring gender disparity and sexism in Science, Technology, Engineering and Math (STEM) to the fore of discussions.
Miss Anne also volunteers to teach young Ghanaians how to write code.
In 2013, she was selected for the Annual Fortune/U.S. State Department Global Women's Mentoring Partnership Programme.
Why TechHer Loves Her:
All of man's effort since creation is to make life much more easier. Anne's creations make it easier for people within and outside Ghana to send information literally with a few taps on a phone. We are also really excited with the work she does standing up for women working in the industry and training others not only to be there, but as better versions of themselves.
She says, "There's no female brain and male brain, we are all persons not just gender. Career and professions don't have gender. It's about your ability, not your gender. So if there is something you can do, you don't have to look at who is in there. They are human beings just like you."
Information gleaned from the Internet.