You cannot talk about influential women in tech in East Africa, or Africa for that matter, without talking about Evelyn Namara. The technologist, social entrepreneur and computer scientist has led multiple technologies for development projects in her native Uganda and has worked in the telecommunications industry, renewable energy sector, mobile payments, as well as tech start-ups.
Evelyn is exceptionally brilliant in strategic planning, project management, ICT4D (Information and Communications Technology for Development), online communication and business development. She is also remarkably knowledgeable in designing human-centered frameworks.
She is the founder and CEO of Vouch Digital, a technology start-up that works with partners to develop technology innovations for national development as well as champions the development of digital solutions in the distribution sector in Africa.
Evelyn holds a Bsc. in Computer Science from Makerere University, a Diploma in Information Technology (Science) from the Uganda Institute of ICT as well as additional trainings in Scalable Internet Services, Scalable Network Infrastructure from the Africa Network Operators Group (AfNOG). She is also a Cisco certified network associate from the Ugandan Institute of Information and Communications Technology.
Under her leadership, Vouch Digital launched its flagship product, The M-Voucher (Mobile Voucher) system, a digital voucher system that is changing the way government and aid organization cash transfers are distributed. The M-Voucher helps eliminate fraud and corruption in the distribution of aid for both government and international aid agencies and organizations, especially with cash based programs. It also simplifies the distribution of aid and has been used by different large development agencies such as MercyCorps, GOAL, among others, to manage the distribution of agricultural products, including seed crops, post-harvest and farming equipment, across Uganda. In 2016, the M-voucher won the World Summit Award in the category of fighting poverty, hunger and disease. The product also won at the 2017 Uganda Communications Commission's ACIA awards in the ICT for development category.
Evelyn has been widely recognized for her role as a champion for women in tech; she's been involved with various platforms that make use of technology to empower women. Namara is a founding member of Girl Geek Kampala; a group whose goal is to motivate girls who code to aim higher. In 2006, Evelyn was part of a women's network that formed the core of LinuxChix Africa. LinuxChix Africa (now defunct) was a network of women in computing across Africa that carried out trainings and programs to empower young girls to take up science courses in school. In 2010, Evelyn joined the Instructor team of AfNOGChix (Africa Network Operators Group) a forum that seeks to increase the participation of women in IT and system administration by providing them with a women – only training environment. Evelyn has also worked as Program Coordinator for Solar Sister, a social enterprise that empowers women with economic opportunity. During her time at Solar Sister, she taught women the technology of solar and helped them start and maintain businesses. She increased Solar Sister's network of women from 10 to 400. The group was recognized by the Clinton Global Initiative and Newsweek's Women in the World Summit as an innovative social enterprise. It was also chosen as one of the 40 premier organizations that empower women via the use technology.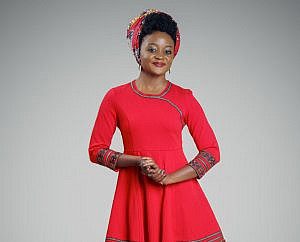 Evelyn is passionate about technology and its impact on development, education and social innovation. In October 2012, Evelyn received the Anita Borg Change Agent. The award celebrates 3 women from outside the United States of America who have distinctly used technology to change their environment. Evelyn is the first Ugandan to win this award. She was also honored at the Grace Hopper Conference in Baltimore, Maryland USA. Evelyn is an IDEX Fellow and also an Acumen Fellow since 2013.
Evelyn is currently the Manager, Global SIG & Community Engagement at the Internet Society.
Why TechHer Loves Her: She is an achiever and a resilient woman. Her passion lies in using technology for grassroots development. Her work is testament to the fact that technology can be used to effect much needed change in our different communities.
Evelyn is quoted to have said in an interview, "I was never afraid to do things. I did a lot of things my brothers did and choosing tech was a no brainer. I felt it was an open field; if boys can do it, I too can. I see tech as an enabler."
We certainly agree!