Yasmin Belo-Osagie was born in Boston United States of America but grew up in Nigeria. Yasmin attended a boarding school in England before graduating from Princeton University USA. She also attended Le Cordon Bleu in Paris and London.
Belo-Osagie is also pursuing a joint JD/MBA from Harvard Law School and Stanford Graduate School of Business. She has worked at McKinsey & Co for 2 years as a consultant where she focused on developing multi-year growth strategies for large organizations. McKinsey & Company is the trusted advisor and counselor to many of the world's most influential businesses and institutions.
Her Work:
In 2013, Yasmin Belo-Osagie cofounded She Leads Africa which has helped to nurture hundreds of aspiring, ambitious female entrepreneurs, with support from companies including Intel, Guaranty Trust Bank, Huawei, and Etisalat. She leads the events and offline programming team. She Leads Africa (SLA) is a women's social enterprise based in Nigeria that seeks to address challenges women on the continent face in creating, growing, and sustaining their businesses and professional services. SLA provides online platform, offering articles and materials on business advice, which is specifically tailored to entrepreneurship on the continent.
Her vision to see African women excel in their businesses did not just end with cofounding SLA. In 2015, Belo-Osagie took five female entrepreneurs to China to meet with successful women entrepreneurs and China-based investors interested in Africa.
She has also hosted versions of her professional boot camp, the SheHive , in Lagos, Nigeria; Johannesburg, South Africa, and other cities.
In 2016, Yasmin was nominated as one of the Fast Company's most creative people in business, along with 99 other people. She was chosen because of her role in developing female entrepreneurs.
Why TechHer loves her:
Belo-Osagie's vision is to turn Africa into a digital destination full of career-driven "Motherland Moguls". This is in line with She Leads Africa's vision which is to become the #1 digital destination for smart and ambitious young African women.
Her three key advice which are ensuring that one's to-do lists have deadlines, delegating tasks and having someone who keeps you accountable are major headers in building successful businesses. As tech savy people, we also believe that if these are applied to tech ideas; growth will be inevitable.
Belo-Osagie's dreams are continent-sized, but with thousands of women in her sphere, we have no doubt she's going to help women entrepreneurs not just in Africa but globally. We truly support her, why shouldn't we?
Thoko Mokgosi Mwantembe was born in Sophiatown, Johannesburg. Her family relocated to Swaziland when she was still very young. She learnt social skills by living in a large family that was not just strictly biological.
Thoko Mokgosi holds a BS from the University of Swaziland and an MS in medical chemistry from Loughborough University of Technology. She has completed a senior executive program at Harvard and a managing corporate resources program from the Institute of Development Management of Swaziland. She also holds a diploma in teaching.
She started working with pharmacological research and did her masters in the UK. She worked in R&D; in the labs where she researched and worked with atoms and molecules. When she moved back to South Africa, she found the work not as challenging as it had been. Thoko Mokgosi decided to take a leap of faith to handle a more challenging position. She applied for the marketing position at Telkom as an 8 months pregnant woman. She got the job. Her successful career path began at Telkom.
Thoko Mokgosi Mwantembe has handled top positions in her career journey. She is the CEO of Hewlett-Packard South Africa. She was also CEO of Alcatel South Africa, divisional managing director at Siemens, and Sales and Marketing director at Lucent. She also holds Senior Executive positions at Telkom.
She is a director at Knorr Bremse SA (Pty) Limited, Absa Group Limited, and Paracon Holdings Limited. She is currently the CEO of Kutana Investment Group. Kutana is a Pan-African investment company focused on delivering significant shareholder value while contributing to the transformation of the economy and society at large. The group has one of her Investment portfolio in Media, Telecoms & IT. She holds a number of non-executive board positions for leading South African companies which include ABSA Bank, Vodacom group, AVENG group, Royal Bafokeng Platinum, Smollen group & Chris Hani Baragwanath Hospital.
Thoko has received various awards. In 2005, she won the ICT Achiever of the Year Award, the Top ICT Business woman in Africa Award, and ICT Personality of the Year. She is the recipient of the Businesswomen's Association Businesswoman of the Year Award in the Corporate Category. She is a Fellow of the fifth class of the Africa Leadership Initiative-South Africa and a member of the Aspen Global Leadership Network. She was also a recepient of South African Business Women of the year award in 2007, IT businesswomen of the year and voted 2nd most influential women in Africa for IT, Media and Telecoms.
Why we love her:
Thoko believes that once you have an opportunity, you need to embrace it and work hard. She believes in continuous learning and development; a keyword at TechHer that led to the commencement of Continuous Learning and Development Programme (CLDP) for women. Thoko emphasizes that to be a successful carrer woman, you have to work twice as hard since most industries are dominated by males. This is something we absolutely love about her.
Thoko says: My mission in life is that I need to make a difference in my environment, whether it's at work, at home – wherever.
Irene Charnley was born on the 6th of May, 1960 and hails from South Africa. She is the chief executive officer of Smile Telecom Holdings- a company that offers a range of broadband solutions.
She achieved a full listing of MTN Holdings through M-Cell Limited and played a leading role in its transformation into one of the pre-eminent black-empowered companies on the JSE.
She has a certificate in Graphic Art, Reproduction and Technology from College of London of Printing, England. Irenne also bagged a certificate in Industrial Relations from University of the Witwatersrand.
She is a member of the Commonwealth Partnership for Technology Management and National Retirement Coordinating Committee.
Ms. Irene is also an Institute of Retirement Funds councilor and a member of the Pensions Advisory Board. The board advises South African Finance Minister Trevor Manuel on policy issues.
Charnley serves as Chairperson of Orbicom, MTN Network Solutions, Mobile Telephone Networks Holdings, Airborn and Member of the King Committee on Corporate. She is also a social entrepreneur and a non-executive Director of MTN (one of Africa's leading telecommunications players) & FirstRand Bank. Charnley is also a Director at Johnnic communications.
In August 2000, she was elected Businesswoman of the Year in recognition of her entrepreneurship and outstanding contribution. She played a major role in the success and transformation of Johnnic from an industrial conglomerate to a focused media, entertainment and telecommunications group.
Charnley was awarded Business Woman of the year in 2000 and nominated as one of the top 50 businesswomen outside of the USA by Fortune Magazine.
Her Work:
Irene Charnley spent 13 years with the National Union of Mineworkers and played a strategic role in heading up the services pillar, coordinating the legal, housing, research and social security divisions in South Africa.
She was the Commercial Director at the MTN Group, responsible for the company's strategic investments and international expansion activities. Irene also serves as a Director on a number of company boards, a member of the King Committee on Corporate Governance and is an International Marketing Council Board Member.
Charnley served as an Executive Director of ElementOne Limited since February 1997 and served as Director of Johnnic Holdings Limited from November 1996 to September 2003.
Ms Irene served as a Director of Metropolitan Holdings, formerly New Africa Capital Group Ltd from 2001 to December 2004.
In 2007, Irene Charnley steped down as an executive director of MTN but remained a member of one of the richest boards of directors in South Africa. She served as Chairperson of South African Broadcasting Corporation since July 2009.
Why Tech Her Loves Her:
She is hardworking, determined and has crafted a niche in the tech-space globally. We use this as another opportunity to encourage other women not to see gender as a limitation to achieving and impacting their society rather as a yardstick to strive to be the best at whatever they are doing.
Barbara Mallinson is the Founder and CEO of Obami; which means 'Mine' in Zulu. She is married to Ennis Jones. Barbara is a graduate of University of Capetown where she earned a B.Sc. in Marketing and Economics. Barbara is an advisory board member for Mobile World Capital, a global initiative driven by the city of Barcelona and GSMA. She is the only sitting African.
She has received several awards in the Tech space such as: -
IS labs recipient in Internet Solution.
In 2011, Barbara's organisation was recognised as one of the 10 Most Innovative Technology in the World by Netexplorateur, UNESCO, Deloitte & others.
In 2012, Mallinson was one of Africa's Marissa Meyers (CNN). She also won the top Female Entrepreneur in Africa awarded by IT News Africa. She was awarded as the 20 Best Start-up in Africa by Forbes Africa.
In 2013, Barbara was one of the Top 40 African Start-up recognized by DemoAfrica. She was also acknowledged as one of the Top 21 Most Innovative African Organisations by the French Government and Google Africa.
Her Work:
She founded Obami in 2007; a community learning platform that combines social networking tools. These social networking tools include profiles, profile pictures and news feeds. It helps to bring pupils, teachers and parents together to connect and exchange ideas. It also provide school administrators with a comprehensive platform to make school management easy and effective. The platform features digital assignments, worksheets, quizzes, tests, exams and questionnaires.
In 2010, she took part in Old Mutual's "Do Great Things" campaign. She was also identified as one of the Mail & Guardian's "Top 200 Young People to Take to Lunch" after spearheading successful innovative companies. These companies set a new standard on the local and international front.
From 2004-2005, she was the marketing Executive for Euromoney Institutional Investor Plc. She worked as a marketing manager at Axicom Limited from 2005-2006.
Why TechHer Loves Her:
Technology is a great enabler that can transform lives and society. However a successful one for us is when someone is able to use such medium to change or improve the way things are being done. Barbara has utilized the social networking space to enhance and enrich the education sector of her country which is such an amazing innovation.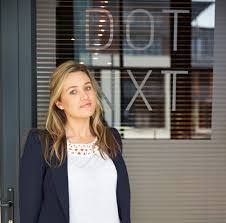 About Her:
Annette Muller is a digital consultant by profession. She obtained a certificate in Digital Change Management from the renowned Hyper Island Digital Master Class New York in 2011. She graduated from the University of Cape Town, South-Africa with a B.Sc. in Business science, Financing and Marketing in 2007. She also has a certificate in Spanish from Universidad de Salamanca. She was profiled as one of the 10 female technology entrepreneurs to watch in Africa by Forbes magazine.
Her Work:
Annette Muller has worked at several institutions in the course of her very successful career. In 2008, she worked as an Intern with Quicktell. She was exposed to online marketing, updating website content and copywriting using Joomla and CMS.
Still in 2008, Annette was the Account Executive at ikineo. She worked on NOKNOK; a social network created by MTN back in the day.
From January 2009 to April 2009, she worked at Glaceau as their digital and social networker for the Country Launch.
Between September 2010 - March 2011, Annette worked with the Digital Business Manager of Nasper Group where she assisted with the setup of all social media initiatives, moving journalists onto twitter and integrating social media into the existing web and media platforms.
from August 2009 – August 2010, as the Lead Innovator at MiWorld, Annette implemented strategies and concept as well as full digital experience planning bridging the online/offline client experience with the launch of the popular new MiBAR. In this capacity, she was responsible for concept development, digital experience, planning and management of all technology developments including web, mobile and touch screen tables & screens, back-end development and all integration.
In March 2011, she founded DOTNXT in Johannesburg, South- Africa. DOTNXT is a strategic innovation management firm in Cape Town that was established to bridge the gap between strategy (consulting) and delivery (project management) on a range of digital, mobile, social and next-generation branding projects. It empowers businesses to embrace the real-time digital dynamic cultures of today and new technologies, propelling them forward to the forefront of success.
Why TechHer Loves Her:
She saw a gap in companies between strategy and execution and decided to offer more hands-on strategic programme management. She lives her mantra which is "if you are the smartest person in the room you are in the wrong room!"