In 2010, Dr. Nneka Mobisson's lost her father following complications from a massive stroke. That personal tragedy opened her eyes to the huge gap in Africa's healthcare support system and a few years later, she launched mDoc Healthcare, a revolutionary digital health social enterprise.
mDoc is a digital health company that aims to dramatically improve access to high quality healthcare by leveraging technology to make life better for people living with chronic health care needs. mDoc utilizes the growing penetration of mobile phone technology in Africa by connecting people living with chronic disease with a multi-disciplinary team of healthcare practitioners. Patients can receive personalized support, through education and tools to improve self-management.
It's integrated healthcare management mobile platform provides 24/7 access to virtual credentialed doctors, nurses and allied healthcare providers via SMS, voice and video platforms for people living with chronic diseases including, diabetes, respiratory system disease, HIV, asthma and cancer. With the app, people can reach experts from South Africa, Zambia, Rwanda, Kenya, US, UK and Nigeria.
The revolutinary platform is helping people live longer, happier and healthier lives in Sub-Saharan Africa and Nneka believes that developing the health landscape in Africa will help unlock the continent's true potential.
Dr. Mobisson is a pediatrician with a Master's degree in clinical and public health. She graduated from MIT in 1995 with a B.Sc. in Mechanical Engineering after which she earned her Master's in Public Health in 1998 from Emory University. She also has an MBA from the Yale School of Management.
Between 2003 and 2004, Nneka consulted for the World Bank on investing in private health care in poor countries and developing a strategy on health care systems. While working as a consultant, she also worked as a Resident physician at the Children's Hospital Philadelphia.
From 2011-2012,  she was Vice President of Community Health and Population Health Management at the Connecticut Hospital Association, where she built broad-based constituencies to address health disparities, provided leadership to hospitals in the area of population health management, and devised statewide health initiatives to better address community health and reduce costs.
From 2012-2016, Nneka was the Executive Director and Regional Lead Africa for the Institute for Healthcare Improvement; an independent not for profit organization based in Cambridge, Massachusetts until she left to launch mdoc. She was responsible for the operations and implementation of the Institute for Healthcare Improvement's existing work in Africa, as well as for developing IHI's portfolio in Africa as part of the organization's work in low- and middle-income countries.
As a consultant for McKinsey & Company, she worked primarily in the area of strategy development for payers and providers, health care IT, and pharmaceutical companies.
She is a 2017 Cartier Awards Finalist, a 2014 World Economic Forum Young Global Leader, and a Yale Associate World Fellow.
Why TechHer Loves Her.
She turned a personal tragedy into a noble purpose and is saving people's lives. Nneka leverages technology to ensure people who are unhealthy and living with chronic diseases can have easy, reliable and fast access to physicians and tools on self-management.
Jemila is the Founder of the award-winning website Circumspecte.com; an online platform dedicated to meaningful insights, interaction and creative action related to Africa and Africans. She is skillful and has vast knowledge in creating content and digital strategy.
Jemila is a graduate of Economics and French from Mount Holyoke College in South Hadley, Massachusetts.
She secured her Masters in International Economics and International Affairs from Johns Hopkins SAIS in 2013.
She speaks Arabic, French, and has elementary proficiency in Italian, Twi and Wolof; she loves reading food, film, astronomy and travelling.
In June 2016, she received the African Blogger Awards as Top Business, Finance and Entrepreneurship Blog in Africa.
The 2016 African Blogger Awards sponsored by the Bill and Melinda Gates Foundation awarded Wumpini the Africa Blogger Awards on Top Social Issues and Active Citizenship Blog in Africa.
Blogging Ghana recognized Circumspecte as the best citizen journalism and news in Ghana in March 2013.
Tripbase.com recognized Circumspecte as being one of Ghana's best travel blogs in March 2011.
Her Work:
Between October 2013- October 2015, she was AfCop Operations Assistant at African Development Bank. She designed and implemented communication and outreach strategy for online community of over 4000 members.
From June 2013 – July 2013, she worked as a Research consultant at World Faiths Development Dialogue in Washington D.C. Metro Area.
Jemila consulted on communications for African Center for Economic Transformation, Accra, Ghana between June 2012 - May 2013.
In May 2012, she worked with Ghana Decides: an election project by BloggingGhana. BloggingGhana is an association of bloggers in Ghana.
Jemima produced and moderated an online discussions geared at incorporating key insights from Ghanaians and Africans into the global sphere on issues related. The online discussion was on Google+ Hangouts in June 2012.
In 2011, Jemila was the Assistant Partner Adviser for Esoko, where she produced & translated monthly partner newsletter in English & French for over 100 subscribers. She also designed and implemented communication strategy for regional conference.
She was part of the team that birthed a series of un (conference) across Ghana called Ghana BarCamps geared at fostering collaboration, innovation and networking among Ghana in July 2009.
She founded Circumspecte in October 2007, a digital platform dedicated to capturing meaningful insights, spurring interaction and inspiring creative action on/for/by African.
As the Regional Program Coordinator for African Women's Millennium Initiative in Dakar, Senegal, Jemila raised over $250,00 in grants from donors like the Ford Foundation for AWOMI's programming.
Why TechHer Loves Her.
Jemila is passionate about Africa, and has recognized the influence and role of the media (digital) in shaping and molding developmental issues affecting the continent.
Janet Shufor Fofang is from Cameroon. She is a social entrepreneur, educator, technologist and speaker. Janet has been teaching electrical engineering for over 15 years at the College D'enseignement Technique Industriel et Commercial. Janet is a certified mentor with mentoring standards and coach supporting the ground work to increase more women and girls in STEM.
She adopts a mission to create and sustain social value. She aims to pursue suitable solutions to social problems and draw upon appropriate thinking in both the business and nonprofit world. She has recipient of notable awards and also sit on the advisory board member and member of :
The leadership council for Women Enhancing Technology Africa (WETECH Africa)
Managing director Girls in Technology Cameroon
Member of Techwomen
She participates in numerous talks and panels emphasizing the ground-work needed for getting women and girls involved in Information Communication Technology for Development (ICTD)
She won the A. Richard Newton Educator ABIE Award that recognizes educators who develop innovative teaching practices and approaches that attract girls and women in STEM.
Her Work:
She established a private K-12 school in Yaoundé; the capital City of Cameroon. K-12 School is an educational model that provides quality education through the use of technology. She actively demonstrates her dedication to youth education and strong support for girls. She has 60 percent of females enrolled in her school. She is extremely passionate about the outcome of her students.
She builds and teaches solar photovoltaics so children can learn about the benefits of clean energy to the environment.
In 2007, she Co-founded Tassah academy, which birthed Girls in Tech (GIT). GIT is a global non-profit organisation focused on the engagement, education and empowerment of girls and women who are passionate about technology. Their aim is to accelerate the growth of innovative women who are getting into the high-tech industry and building successful startups.
In 2014, she started "STEM box" and "STEM Your School" projects to increase the numbers of women in technology in Cameroon. This vision is to give them more decision-making power in STEM.
Why TechHer Loves Her:
She is extremely passionate about the outcome of her students and envisions developing schools that are affordable for all students. These schools are to set high standards of academic achievement as model for education development in West Africa.
Information gleaned from the Internet.
Ndidi Okonkwo Nwuneli, was born on the 22nd of March 1975. She is a social entrepreneur with experience spanned over 20 years in International development and business management. In 2002, she founded LEAP Africa on the premises that Africa desperately needs a new generation of visionary, ethical, creative, and disciplined servants. These small group of people who share the same vision could work together to change the world. She is also the co-founder of ACCE food processing and distribution company founded in Nigeria.
In May 1995, at the age of 20, Nwuneli graduated from Wharton School of the University of Pennsylvania with an Honors in Multinational and Strategic Management. She also bagged her M.B.A. from Harvard Business School in 1997 at 24.
Mrs. Nwuneli has been recognized with several academic such as:
A recipient of the Albert A. Berg Scholarship.
A member of the Friars and the Onyx Senior Societies for her outstanding leadership efforts.
Recipient of both the Harvey Fellowship and the National Black MBA Association Graduate Scholarship.
Young Global Leader by the World Economic Forum.
National Honor – Member of the Federal Republic from the Nigerian Government.
Listed as one of the 20 Youngest Power African Women by Forbes.
She serves on numerous local and international boards including the Board of Nestle Nigeria Plc, Nigerian Breweries Plc, Cornerstone Insurance Plc, AACE Foods, LEAP Africa and Royal DSM's Sustainability Board.
Her Work:
Nwuneli's career began in the summer of her junior year at The University of Pennsylvania when she held a Summer Business Analyst position with Mckinsey and Company in New York.
In 1995, she was offered a full-time position at McKinsey as a Business Analyst working out of Chicago, Illinois. She also worked for McKinsey office in Johannesburg, South Africa .
Notably, her work with McKinsey in 1997 led to the management and training of police officers across 25 South African Police Service Stations. There was also an increase in criminal convictions and a reduction in crime rates.
In the summer of 1998, she accepted a position as the Lead Consultant with a non-profit called The Center for Middle East Competitive Strategy. She consulted with Palestinian and Israeli businesses and made recommendations for decreasing transaction costs and increasing trade across the region.
In the summer of 1999, Nwuneli worked as the Lead Consultant for The Ford Foundation on a project focusing on Nigeria's largest micro credit institutions; COWAN and FADU.
In 2000, less than a year after graduating from HBS, she resigned from her position at McKinsey and returned to Nigeria to serve as the pioneer Executive Director for the FATE Foundation. FATE Foundation is a nonprofit organization that strives to promote wealth creation and encourage entrepreneurship in Nigeria. With a specific enthusiasm for engaging female entrepreneurs, she explains to the HBS African America Alumni Association in an interview: "Nigeria has some of the most entrepreneurial people in the world but access to financing, networks, and growth remain a challenge. She believes that empowering women to start and grow their businesses is critical to Nigeria's development, but educating women is the real silver bullet."
In 2002, Nwuneli founded two nonprofits, LEAP (Leadership, Effectiveness, Accountability, Professionalism) Africa and Ndu Ike Akunuba (NIA), Igbo words which translate in English to Life, Strength, and Wealth. NIA's focus is on female empowerment—inspiring university students in Southeastern Nigeria to live full and meaningful lives.
As a representative of LEAP, Ndidi has been invited to speak at the United Nation's Commission for Social Development, the World Economic Forum and the Clinton Global Initiative.
Since it was founded LEAP has worked in partnership with the Ford Foundation, Citi Foundation, World Bank, United States Government, United Kingdom Foreign & Commonwealth Office, ALI (Aspen Institute's Africa Leadership Initiative), Nokia, and the International Youth Foundation.
Why TechHer Loves Her
Mrs. Ndidi is helping the Agriculture sector in Nigeria rethink its way of feeding itself. She is an inspiration to aspiring female entrepreneurs in Nigeria to achieve their highest potential.
Juliet Ehimuan-Chiazor is a Nigerian technology expert and entrepreneur who is currently serving as Google's Country Manager in Nigeria. In August 2011, she was listed in Forbes "20 Youngest Power Women in Africa". Mrs. Ehimuan completed her B.Eng. degree in Computer Engineering from Obafemi Awolowo University, Ile-Ife, Osun State with a first-class honors.
She proceeded to obtain a postgraduate degree in Computer Science from the University of Cambridge, United Kingdom. Juliet has an MBA in strategy, entrepreneurship and organisational behavior from London Business School. Ehimuan's contributions to technology and entrepreneurship has won her several awards and recognition:
She is a Fellow of the Cambridge Commonwealth Society.
She is a recipient of the London Business School Global Women's Scholarship. She also received two scholarly awards – Selwyn College Scholar and Malaysian Commonwealth Scholar at the University of Cambridge.
In 2012, she won the "IT Personality of the Year" at the 2012 National Information Technology Merit Award.
She received the Microsoft "Ship-IT" award for successfully launching the new MSN online subscription business in the UK, Spain, Italy, and Germany.
She is also a pioneer member of the Academic Computer Network for Developing Countries sponsored by the International Centre for Theoretical Physics (ICTP), Trieste, Italy in 1995. This resulted in a Campus-wide area network at OAU, Ile-Ife.
Her Work:
Her career path in technology started in 1995 as a Performance Monitoring and Quality Assurance Supervisor at the Shell Petroleum Development Company until 1997 when she left the firm.
She then joined Microsoft UK as a Program Manager and worked for 6 years overseeing projects for MSN subsidiaries in Europe, Middle East, and Africa. She was also a Business Process Manager for MSN International.
Upon leaving Microsoft in 2005, she started a firm called Strategic Insight Consulting Ltd. Strategic Insight was focused on providing collaborative programmes that connect African Business leaders and Professionals with their global counterparts. She later became the General Manager of Chams Plc's Strategic Business Units.
In April 2011, she was appointed Google's Country Manager for Nigeria. She is responsible for leading series of innovative products and services aimed at building the online ecosystem in Nigeria through a three-pronged strategy. These include – (1) driving initiatives around Internet access to make the internet more available and affordable to the Nigerian user (2) facilitating local content development and (3) building capacity.
Under Juliet's leadership, Google Nigeria launched a nationwide program called Get Nigerian Businesses Online. The program provides free and easy tools that any business owner could use to create a website in a couple of hours, and also get listed on Google Maps. Google Nigeria currently runs a Digital Business Manager (DBM) programme. This programme leverages Google's third-party model to grow the digital ecosystem by supporting businesses in their online journey.
Why TechHer Loves Her
As a woman in technology herself, Mrs. Chiazor believes there is room for women to do more in the Nigerian tech space. She believes women can benefit from more support, knowledge sharing communities and access to resources. Remember, #TechHer is also hinged on learning, support and collaboration.
Lisa has a degree in Software Engineering from Makerere University Kampala, Uganda. She was funded by the Network Start up resource Center to attend the Grace Hopper Celebration of Women in Computing Conference in Minneapolis, United States of America.
She is proficient with Java, CSS, HTML and Shell scripting. She has won several awards such as: the first prize of the Orange Community Innovation Awards in 2013, by building an agricultural App called AgroMarketday with Isaac Omiat. It features details of agricultural markets, market days, and farmers in district of Uganda.
Her Work:
Between October 2011 - October 2012, she worked as an End user support Intern at Directorate of ICT support and training for Makerere University, Kampala.
In 2012, Lisa volunteered for Afchix African Women in Technology. As a volunteer, she facilitated networking opportunities amongst women studying computer science and those working around the Information and Communication Technology field. She didn't stop there, a platform for mentoring upcoming young women in the field of computer sciences was also established by her.
From November 2013 - August 2014, she was an Intern at Orange Uganda where she managed the social media presence. She also presented weekly reports, including organizing and facilitating the annual Orange community Innovation Awards for the year 2014.
In 2014, she organized a Unix system administration and networking workshop for female engineers in East Africa called AFNOG chix.
Lisa currently works as a business developer at Likamis Software Limited; a digital company she co-founded with Isaac Omiat. The goal for establishing Likamis was to bridge the gap between farmers and consumers in Uganda.
Why TechHer Loves Her:
At TechHer, we believe in collaboration and support. Miss Katusiime agrees with us as she reiterates the essence of women networking. She says, "It is so great when women come together to network and share brilliant ideas because through such networks great ideas are formed that lead to greater things"
Culled from the Internet
Nkemdilim Begho is the daughter of Chris Uwaje who pioneered the conceptualization Framework and content drafting strategy for the establishment of the National Information Technology Development Policy for Nigeria.
Mrs Begho is the Managing Director of Future Software Resources Limited- an IT solutions provider focused on online solutions, e-learning and IT security. Nkemdilim volunteers and mentors young and less privileged children in Nigeria. She has a B.Sc. in BioInformatics from Ludwig-Maxmillians Universitat Munchen, Germany.
She was awarded the Jim Ovia Prize for Software Excellence.
She is a facilitator at W.TEC and Ajegunle.org.
She is also a recipient of the Etisalat Prize for Innovation.
Nkem has been featured on several newspaper and magazine publications as an expert speaker on ICT in Africa.
Her Work:
She started her career as an Application Developer at Max Planck Institute for Psychiatric Research, Munich Germany in December 2002. Mrs. Begho developed software tools to aid genetic research, and plugins for Micro-array database (Java).
In 2005, Mrs Begho was the Channel Manager for Leapsoft Nigeria Limited.
Between December 2004- December 2009, she worked as Bioinformatics Consultant and Software Developer for Affectics Pharmaceuticals. Nkem developed a chemical compound database called Affectis KemSuite (Java PostrgreSQL) Affectis KemSuite is an in - house developed compound database system with chemical intelligence, which enables company wide data integration. Affectis KemSuite delivers all essential functionalities that ISIS Base,Chem Office or IDBS have, including the support of all data formats primarily used by the pharmaceutical industry.
She's one of the Board Members of the World Summit Youth Award from 2010 till date;Board Member of the World Summit Youth Award, a global e-content contest with core focus on the acceleration of the Millennium Development Goal implementation.
In February 2008, she became the Managing Director of Future Software Resources Limited- a website design & web-solution provider located in Lagos, Nigeria. She was also among the Research and Development Team, for National Information Technology Development Agency on E-Government Interoperability Framework.
Other services her company offers include online marketing, Search Engine Optimization (SEO), content management system development, online recruitment, graphic design, brand development (logo design and branding), workflow, business and educational software development and IT consultancy services for Nigerian corporate and start-up businesses, as well as the public sector.
Her company innovated the first digital business cards in Nigeria.
In September 2009, she was part of the NITDA Open Standards Framework on Creation and development of the open standards framework for Nigeria.
Why TechHer Loves Her:
Her success is founded on a passion for driving innovative thinking, building a globally recognized technology brand and setting trends in the Nigerian Technology sector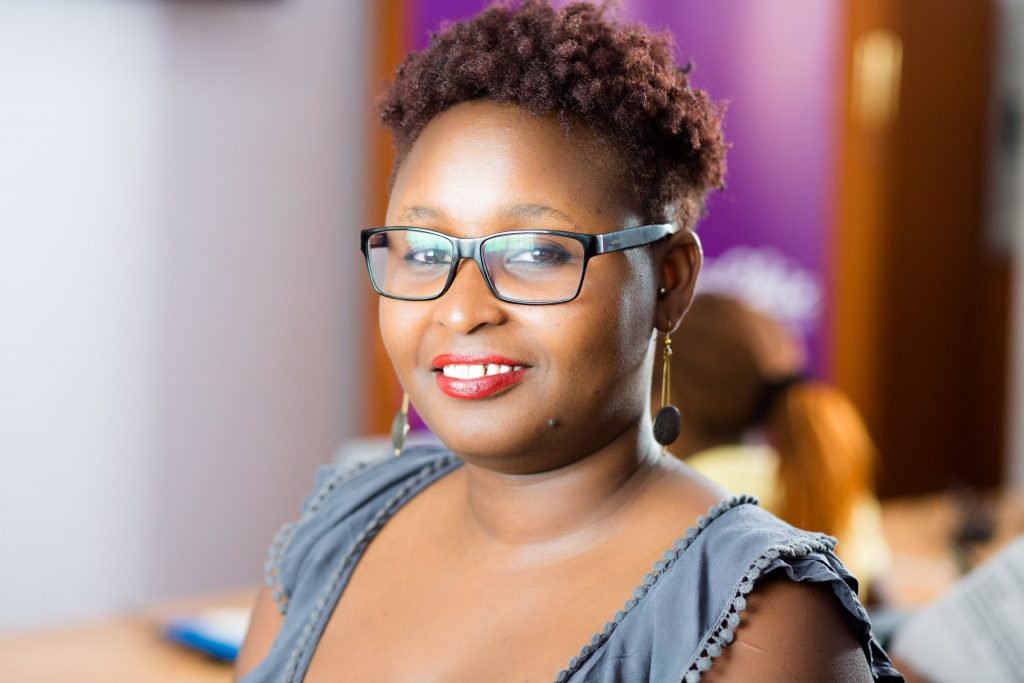 About Her:
Miss Marie Githinji, a 32 year old Kenyan nationale is the Co-founder of two groundbreaking startups called eLimu and Akirachix. She is very passionate about IT and inspires innovation among women working in this space. She is an IT Freelancer, coder, facilitator and speaker at leadership camps. She enjoys Cricket and her favorite player is Sachin. Miss Githinji loves her job because there is always something new to discover and learn every bit of the way; the casual factor of wearing jeans and t-shirts and the change that happens in the industry at the speed of light.
In her spare time, she loves watching movies. Marie got interested in programming while she was in high school and she figured out the career path to follow.
She has a Diploma in Business Information Technology.

A software developer for both web and mobile application.

Marie was a speaker at Webit Congress in Istanbul, Turkey in 2013.

She was part of those that hosted the Girls on ICT Celebration Day in April 2014 at iHub's premises in Nairobi, Kenya.
Her Work:
Miss Githiniji is a co-founder and Outreach/Communication Advisor at Akirachix; a networking, mentor-ship and training platform for women interested in technology. They started off with 8 women and presently they have more than 800 women on their mailing list.  It is a social enterprise to teach girls and women tech skills.
eLime is a platform she co-founded to help Kenya primary school children learn by using a rich digital content such as Quiz and Animation that simply explains financial literacy, Civic and Social lesson on Citizenship and Kenyan's constitution. It is one of the most talked about EdTech innovations in Africa.
The project is piloted in four schools and several libraries in Kenya.The website contains thousands of lessons.
She is also a Program Manager of Infonet; a technology innovation facility that empowers citizens and civil societies in service delivery and democratic governance with the aid of technology.
While working at Infonet in December 2013, she led a team that created a budget tracking tool called 'Ugatuzi'. Ugatuzi helps citizens engage in public finance management. Ugantuzi also attempts to provide an open data system and information platform for citizens to actively engage in such process beyond being whistle blower's.
She also worked for an NGO called Social Development Network (SODNET).
Marie worked with Ushahidi as a senior developer. Ushahidi is a non-profit tech company that develops free and open-source software. Ushahidi was developed to map the post-election violence in Kenya. She was part of a team of 24 that managed the "Testing and User Experience Feedback" of Ushahidi Version 3.0 alongside its re-branded website.
Why TechHer Loves Her.
Marie is not intimidated by the male dominated industry. Rather, she puts in more energy and has so much drive to influence her society positively through technology.
Her zest and intelligence to have more women embracing technology and use it as a tool to solve societal problems has been portrayed through several successful programs; free training's on IT courses and other platforms she has co-founded.
About Her
Funke Opeke is Nigerian by birth. She is the Founder and CEO of Main One Cable; an Internet solutions company in Nigeria that built a sub-marine cable system which provides advanced network, voice, data, and cloud services to locations across West Africa.
Funke was born into a lovely family and has six siblings; she grew up in Ibadan, Oyo State. Her father was the first indigenous Director of the Cocoa Research Institute of Nigeria and her mum once worked as Head Teacher of different Catholic private schools in Ibadan.
She attended Queen's School, Ibadan for High School, and graduated with a B.Sc  in Electronics and Electrical Engineering from Obafemi Awolowo University in 1981. She also has a Master's Degree in the same discipline from Columbia University, New York; she got that in 1984.
Her Work
She started her career as a Systems Engineer, then joined PA Consulting Group where she held several senior positions at Allied Signal and Telcordia Communications.
Between 2001 and 2005, she was the Executive Director, Performance Assurance with the Wholesale Division of  Verizon Communications, New York, and was involved in designing and implementing business frameworks for Verizon.
In 2005, Funke Opeke returned to Nigeria, after a successful career spanning over 2 decades in ICTs in the United States.
In October of that year, she replaced Demola Eleso as the Chief Technical Officer at MTN Nigeria, and resigned her appointment after 5 months. Her  role at MTN Nigeria included planning and management for business operations.
She also had a brief stint at NITEL (Nigerian Telecommunications) as the Interim Chief Operating Officer (COO) and was part of the team that advised Transcorp on the Privatization of NITEL.
On July 22nd, 2010, Main One Cable started full operation. This feat became possible after 7,000km of fibre optic cable was laid under sea from Portugal down to Accra, Ghana  and Lagos, Nigeria. Capital for this project (touted as the biggest of its type in West Africa) was gotten by raising $240 million, and a contingency fund of $28 million.
Part of Main One Cable's mission is to start a cyber revolution that would connect the whole of Nigeria and Sub-Saharan Africa.
Funke Opeke has a keen interest in identifying and utilizing opportunities, and this shines through all the projects she gets involved in.
In 2012, Funke was recipient of the CNBC All Africa Businesswoman of the Year Award. She is  a member of the Institute of Electronic and Electrical Engineering, USA and the Nigerian Society of Engineers.
On the 20th of January 2015, Funke Opeke was appointed as Independent Non-Executive Director to the Board of Atlas Mara, a top notch investor relations firm.
Why TechHer Loves Her
She's a rare Amazon and epitome of hard work for women folk and a result-oriented Engineer. She' s a woman with great foresight, and has excellent work ethic. She sees problems as surmountable challenges, which is perhaps one of the reasons she started Main One in the first place. Beyond being shocked at the abysmal level of internet connectivity, she did something.
Prior to Main One Cable, she advocated for the fair treatment of subordinates, especially junior employees in her work places.
Funke Opeke is known to have said  "While the developed world was fully connected, here in Nigeria the average young person didn't know what the internet was. We can't leave an entire generation of young people without prosper access to the internet." We agree, and are inspired by her achievements.
Information gleaned from the Internet.