Women encounter various barriers ranging from unconscious bias from parents, societal perception on certain careers, harassment etc. Nevertheless, 2018 is proving to be the year women are asked to push for progress, propelling them to break stereotypes and expand their horizons.
Technology and social media have been some of the drivers for Nigerian women in learning, creating awareness and advocating for issues affecting them. So many opportunities are embedded in technology, though it still fails to attract or retain more women.
Reinforcing female participation in technology is important because of the resultant increase in employment opportunities which weakens the effect of gender inequality, bridges the gender gap in technology and boosts the global economy.
Across the world, more people are speaking up about gender disparity in technology and ways of bridging the digital divide for women. Emphasis is being made on the impact of providing support, mentorship and active encouragement for women at the beginning of their careers, thus nurturing an ecosystem were women thrive in the ever-changing landscape of technology.
TechHerNG is empowering women to demystify technology and helping young people increase their skillset through technology. In making major strides and swaying the interest of more women to change the status quo, TechHerNG partnered with Aspillo Foundation to help 40 women access concrete information and skills that can be used to chart a core tech or tech-enabled career at the Civic Innovation Lab, Abuja.
With four women working in technology discussing their career paths, challenges, and opportunities: Nnena Nwakanma,  the Senior Manager Anna Brandusescu, Research and Policy Officer of World Web Foundation, Elizabeth Kolade and Farida Kabir, participants went away with a bigger sense of possibilities as to how they can develop a career in technology and make global impact.
With a track record of thriving in the tech industry, Nnenna sparked interest and engagement amongst participants with valuable insights around how she leveraged on leaving lasting moments and creating the right impression as a catalyst for her growth in the tech industry.
Rejoice Aikohi, a software developer had a practical learning session with the participant on how to build a website. Lara Raji, the Programs Manager for TechHerNG, provided plausible ways in which technology usage can create social impact. It was a significant step forward for most of the women in the room because it got them talking about the how and why of making social impact within society. It was a free flow of ideas amongst women and also provided a safe, constructive environment for women to participate and have their ideas become part of a solution, showing how organizations are moving the needle for startups and women in tech.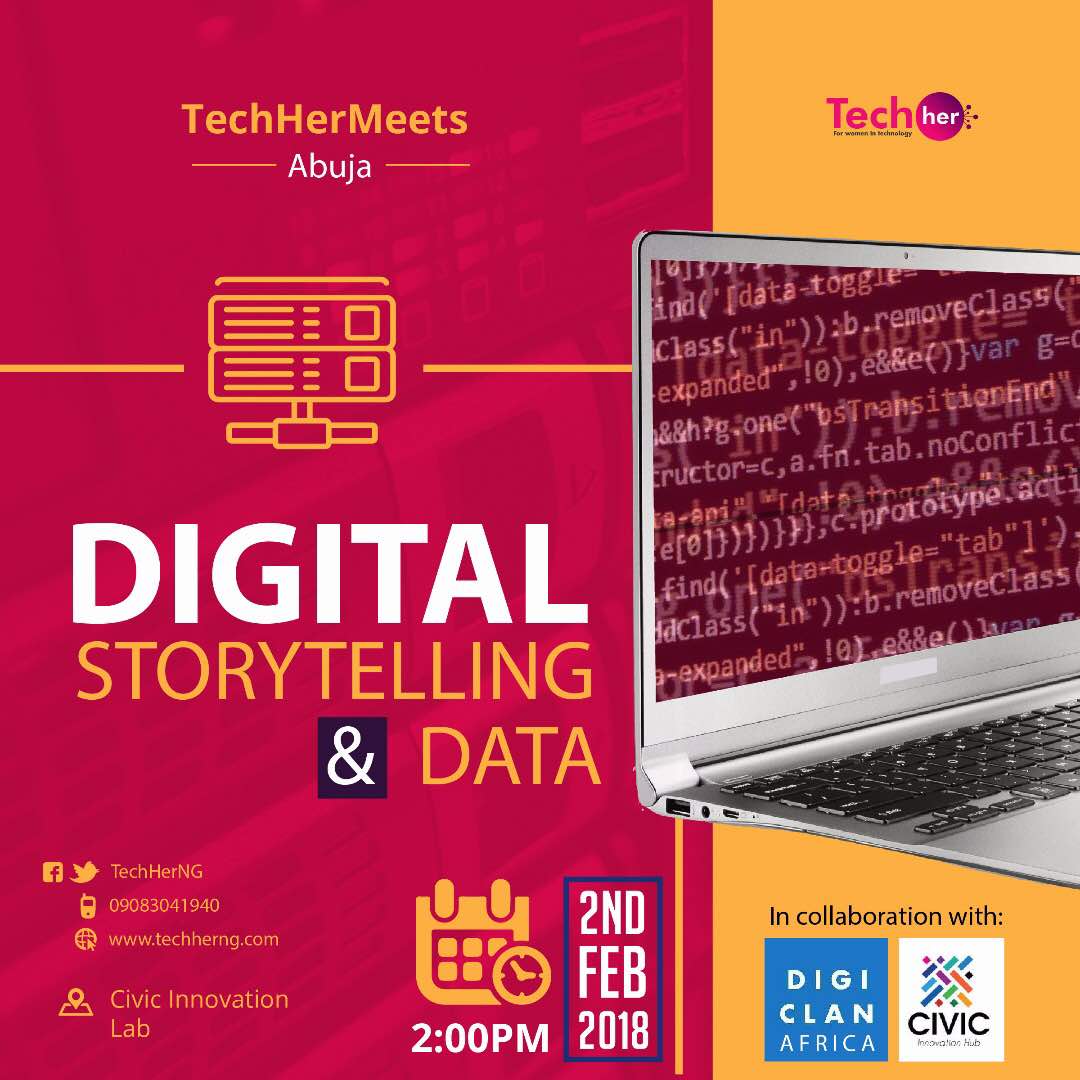 TechHerNG, a social enterprise for women in tech engages fellow women within the sector by providing a safe space for demystifying technology through TechHerMeets.  TechHerMeets holds every first Friday of the month and has been in existence since March 2017. It has helped attendees learn new skills, make valuable connections and have access to one on one mentoring.
This month edition is in collaboration with DigiClanAfrica and Civic Innovation Lab. The DigiClan community  is a community of people working in the Digital Media industry committed to the growth of the Industry, to learn from each other, to collaborate, to foster networking between members, to inspire growth in the Industry and set standards that will ensure that we all grow together.
The meetup will focus more on training the community members on using digital marketing skills to drive growth within the business sector across Africa.   The theme for the event is "Digital storytelling and Data." ,  We have amazing lined up trainers for the 2 hours intensive digital marketing session.
Our trainers for the day is Muyiwa Alesh who will be  training on Content Strategy, Ized Uanikhehi - Content Marketing, Ken Ndubisi  core strength is on effective Facebook Advertising while  Caroline Wabara will delve into  using Search Engine Optimization.
The event is scheduled to hold at the Civic Innovation Lab, No 50, Ademola Adetokunbo Crescent, Wuse 2 Abuja, on Friday, 2nd of February, 2017.  Click on the  link for registration. Attendance is free! It is a free day of learning, innovation and using strategic concept  to enhance the use of digital skills in your business. We've got snacks ,and swag items for the first 5 attendees.
Remember to come with your complementary cards, your next gig might be from this event! Time to learn together.
For more information you can always call our Program manager -Lara Raji on 09083041940 or visit our social media handles; we are @TechHerNG on socials, we are one DM away from you.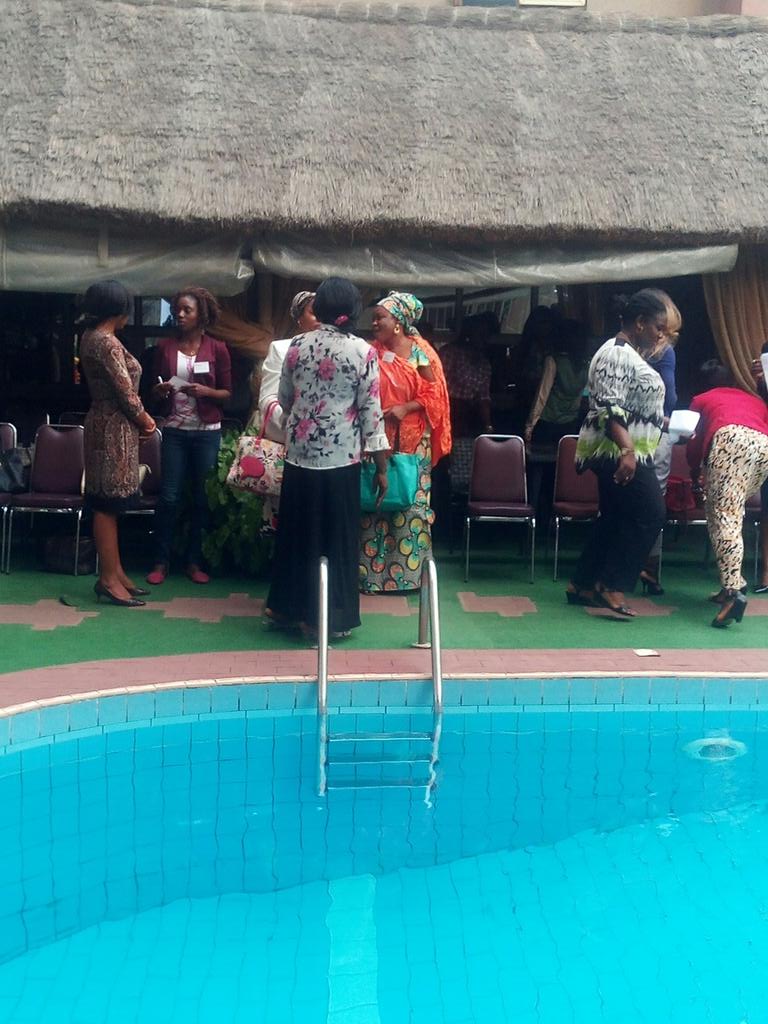 TechHer Meets, a monthly networking event for women, held its debut event in Abuja yesterday the 30th of March, 2017 at 3J's Hotel, Jabi, Abuja. TechHer Meets was designed to demystify technology, provide a safe, fun space for practical learning and foster economic empowerment by encouraging collaborations. The event seeks to provide an offline component for TechHer's online activities.
The event featured three speakers; Simi Fajemirokun of ESFAJ and Partners, Stella Uzochuwku – Denis of Odyssey Foundation and Judy Melifonwu from IBM who shared of their experiences working as entrepreneurs, employees, and social enterprise owners. The sessions were interactive and an opportunity for knowledge sharing across a variety of topics.
Attendees won TechHer branded items from the networking competition and there was a table laden with drinks and snacks for everyone to feast on.
The two-hour long event also featured a question and answer session themed security which shared information on data privacy day, two-step verification and acceptable passwords.
The event ended with 14 of the attendees signing up for a free digital marketing class TechHer offered the women as a welcome gift.
TechHer Meets holds on the last Friday of every month. It is an initiative of TechHer, a community of learning, support and collaboration for women working with technology either as the core of their function or as an enabler.
TechHer is online as @TechHer NG on Facebook, Twitter,and Instagram is home at techherng.com and can be reached via 09083041940.