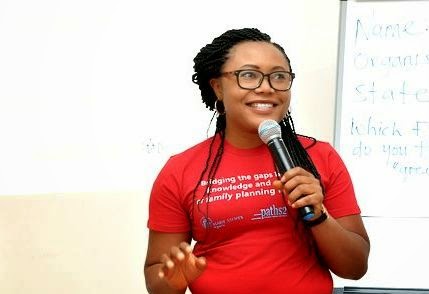 About Her:
Esther Agbarakwe is a Social Media Consultant, Digital Storyteller and award winning environmental activist. She's from Imo State, and graduated with a B.Sc in Chemistry from the University of Calabar, Nigeria in 2008. Aside being a social media and communications expert, Esther Agbarakwe is also an advocate for many causes which include reproductive and maternal health care, climate change, poverty alleviation, societal development etc. She wears many hats and she does great with all of them!
She is Co-founder of Social Good Nigeria, working with Ize Adava and Kolo Kenneth Kadiri. Social Good Nigeria serves as an interface between innovation, technology and community development. Social good holds critical conversations on how technology shapes development leading to action that inspires, connects and empowers.
In 2008, she got a certificate in Digital Storytelling and Community Leadership from Earth Charter Global Learning Opportunity (e-GLO). e-GLO helps young leaders in developing countries, increasing their knowledge on things like multi-culturalism, sustainability, ethics and new media communication.
In 2012, she got a Diploma in Project Management from Advance Learning Interactive Systems Online. Between 2012 – 2013, she studied at The University of Massachusetts Dartmouth and graduated with a Post Graduate Diploma in Sustainable Development.
Her Work:
Esther Agbarakwe started activism right from when she was 9 years old and is popularly known as 'Estherclimate' because of her interest and passion for the environment. She is proficient with using social media to communicate environmental issues. As an undergraduate at the University of Calabar, she volunteered as a youth counsellor and activist for the Nigerian Youth Aid Programme (NYAP).
What else has she been involved in? A lot!
Between September 2008 – June 2009, Esther Agbarakwe was the Program Coordinator of Society for Youth Development and Orphaned Children in Ilorin, Kwara State. She managed and coordinated the affairs of orphaned and vulnerable children.
From August 2008 – July 2009, she worked as HIV/AIDS (UNICEF Nigeria/Society for Family Health, SFH) Peer Education Trainer in Ilorin, Kwara State.
From May 2009 – May 2010, she was the Regional Coordinator for Africa at Youth and Children Major Group of United Nations Commission On Sustainable Development (MGCY). MGCY is the mouthpiece of young people in the UN sustainability negotiation efforts for the Commission on Sustainable Development. During her time there, Esther Agbarakwe alongside her team coordinated the development of policies, networked with young people from around the globe and also made recommendations towards the achievement of the group's goals and objectives. This includes protecting the environment.
In June 2009, she founded the Nigerian Youth Climate Coalition.
In 2010, she briefly worked for 9 months as Project Manager at Building Nigeria's Response to Climate Change (BNRCC) and Nigerian Youth Climate Coalition (NYCC); a Youth Engagement and Communications Project. She was also the Country Activator at Commission on Education and Communication (May 2010 – September 2012). The Commission on Education and Communication is a network of professional volunteers who are specialists in strategic communication, learning and knowledge management, towards the actualization of IUCN's (International Union for the Conservation of Nature) goals.
Between April 2010 – August 2011, she worked as Programme Assistant at White Ribbon Alliance for Safe Motherhood, Nigeria (WRAN). She helped in promoting youth participation in maternal and child health policy programs. She also assisted the National Coordinator in the design of policies for targeted groups.
From May 2011 – September 2011, she co-founded advised Youth Advocates for Maternal, Newborn and Child Health Nigeria. This initiative was birthed as a result of the pioneer Youth e-consultation on MNCH (Maternal, Newborn and Child Health) which held in Nigeria on the 28th of April, 2011. The e-consultation program comprised of series of questions which was aimed at getting opinions from youths on their awareness, willingness to be involved in raising awareness and designing online strategies for targeting young people.
In the midst of all this, she also served as a Youth Facilitator (Organizer) and Report writer for the International Youth Climate Movement from September 2010 - March 2012.
Between September 2011 –August 2012, she was an International Advocacy Fellow at Population Action International (Population, Health, Environment and Climate Change) in Washington DC, USA. PAI is an organization that promotes the campaign for qualitative reproductive health services to be easily accessible by people across the world. She effectively coordinated and managed the climate change small grant project for screening of PAI's award winning movie. She also helped in fusing reproductive health/family planning into national climate change declaration strategies in Nepal and Brazil. On international youth engagement, she was responsible for capacity building of youth delegates during several UN engagement summits that focuses on the cor-relational frameworks between climate change, reproductive health and human demography using social media and symposiums. Furthermore, she assisted in developing advocacy strategies for United Nations Organization's Conference on Climate change (COP17) in Durban, South Africa and a Conference on Sustainable Development (Rio+20) organized by the UN in June 2012, at Rio de jainero, Brazil.
Since May 2012 till date, Esther Agbarakwe has been a resource person at Actionaid Nigeria; a human rights organization whose aim is to end poverty in Nigeria. She was the Convener/Chair of the 2014 General Assembly.
In 2012, Social Good Nigeria at the International Girls in ICT Day event unveiled 'The PopUp Incubator Project', a project aimed at developing the capacities of techies, entrepreneurs, young professionals and to increase the involvement and participation of women in ICT sector.
She is currently the Communications Officer at Global Fund to Fight AIDS, Tuberculosis and Malaria Association for Reproductive and Family Health, Abuja. She has held the position since June 2013. Her roles include offline and online projection of ARFH and research writing and ensuring contents editorials meet required standard.
Esther Agbarakwe's work speaks volumes and has been recognized by both national and international organizations.
In 2009, she received the Dekeyser & Friends Foundation Leadership Award, Germany.
In June 2010, she was among Women Deliver 100 Young Leaders.
In November 2010, she became a Commonwealth Youth Climate Fellow and was received the Nigerian Youth Leadership Award form LEAP Africa (supported by Ford Foundation).
In September 2012, she became an Atlas Corps/Population Action International Fellow.
In August 2012, she was nominated in The Future Awards (For Best Use of Advocacy, 2011/2012).
Why TechHer Loves Her:
Esther Agbarakwe is passionate about causes that promote the empowerment of women in technology and facilitating where she can.
To us, she is an engagement strategist especially on youth affairs. She is one who understands the nitty gritty of using social media in advocacy and welfare promotion for the Nigerian and International society. Women in technology and especially social media should learn from her; we're definitely proud of her!
Information gleaned from the Internet