Ethel Delali Cofie has been named as one of the Top 5 women impacting IT in Africa for very good reason. A high caliber IT professional, technology expert and entrepreneur with a wealth of knowledge and a work portfolio that spans 3 continents, Ethel is one of the most accomplished people in technology and innovation in Africa.
She is CEO and founder of Edel Technology Consulting, an IT consulting and digital products company based in Ghana with presence in West Africa and Europe and which was recently named IT Consulting Firm of the year by the Telecoms and IT Industry.
She has a B.Sc. in Computer Science from Valley View University Ghana and a Master's Degree in Distributed Systems from the University of Brighton. She also holds a certificate in Executive Leadership, Business and Entrepreneurship from the Yale School of Management (Yale University).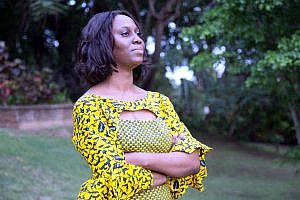 Ethel has a wealth of technical and commercial skills acquired across a wide range of demanding roles. She has worked as a systems developer/analyst at the International Institute for Information Technology and had a brief stint at Telegenuk, Brighton as a developer and junior database administrator. She worked as a web application developer at Click with Technology also in Brighton where she worked with a team to develop usable and accessible web applications. She was the business/systems analyst at RDF Group where she prepared functional design specifications. From February 2010-August 2010, Ethel worked as technology analyst at Grameen Foundation and from September 2010-December 2010, she assumed the role of technical lead with the Ford Foundation Nigeria; an electoral reporting platform. Ethel was responsible for analyzing and documenting requirements for the platform. She was the country programs manager contract of Aksa Management (Ghana County Office) and she has also worked as the IT business analyst and development consultant of DreamPerfect Solutions, Sierra-Leone. Ethel was also the CRM business delivery manager at Vodafone Ghana where she later became the Head of Commercial IT Solutions.
Ethel is one of the foremost voices in empowering women in tech and through tech in Africa. She is the founder of Women in Tech Africa, currently Africa's largest women in tech group with members in over 30 Africa countries and in the diaspora and growing. She is also the initiator of the 1st Pan African woman in tech meet up and was shortlisted for the UN GEM Tech Award for work supporting women in ICT. She is also the creator of women in tech week, a global event first held in 2016 to bring together women in technology. The first events brought together over 10,000 women virtually with physical events in Ghana, Nigeria, Botswana, Zimbabwe, Ethiopia, Canada, Germany, Belgium and China.
She is Mandela Fellow for President Obama's Young African Leaders initiative (YALI) and has consulted for the World Bank. She was shortlisted for the UN GEMTech Awards in 2014 alongside her numerous awards and recognition, including the Africa Woman of Influence in Business: ICT Category and Africa's Leading Women in IT.
Her thoughts and opinions on innovation and technology in emerging markets have been featured in prestigious publications like Wired UK, New Africa Woman, European Business Review and Business Africa amongst others and she has been featured on BBC and has had her opinion pieces published on CNN on the topics of technology in emerging markets and women leadership.
Ethel regularly serves in advisory and consulting roles on technology growth in emerging markets and on bringing more women into technology careers across Africa.
She currently sits on the Advisory Board for Ghana's Vice President, helping to design Digital Strategy for Ghana as well as the Tech Advisory board for the Graca Machel Trust.
Why TechHer Loves Her:
Ethel is a pacesetter for African women. Her vast experience in technology consultancy and entrepreneurial management spurs us to aim higher in our different disciplines. It also teaches us that no ambition is too much for the African woman to achieve.
Ethel once said, "Stop second-guessing and just jump. Remember, the mistakes you make are all part of learning. Therefore instead of over thinking things, just do it; You will figure it out in your own way."
We at TechHer totally agree!
About Her:
Teresa Mbagaya is a young enterprising woman from Zimbabwe and an activist born in Kenya, Nairobi. The 28 year-old holds a Bachelors degree from Yale University. She attended London School of Economics and Politics Sciences. She also has a certificate in Advanced Arabic from SIT Graduate Institute in Washington DC.
She is a member of Management Leadership for Tomorrow, Africa Leadership Network, Yale Black Alumni Association and an Advisory Board member for Muzinda Umuzi Hub (Zimbabwe's first entrepreneurship and innovation Hub).
Miss Teresa Mbagaya is passionate and driven about education technology and has received notable awards and scholarships for being zestful in the cause she cares about.
She received a youth scholarship of $1,000 from Hudson River Fisherman's Association in 2006.
Teresa received an Eagle Scholar Awards from Yale University having inspired her classmate through kindness, dedication and courage.
In 2012, she was one of the youngest of 15 Google Reach participant selected from over 250 global participants to take part in a leadership development assignment in India.
In October 2015, she was named as one of the most 30 Promising Young Entrepreneurs in Africa by Forbes Magazine.
Miss Mbagaya was nominated recently for The Future Awards Africa Person of the Year, 2015.
Her Work:
In 2006, Teresa Mbagaya Co-founded Bidii Children Foundation. Bidii is a non-profit dedicated to promoting education in rural area of Bungoma; a district in Western Kenya.  
She started pursuing her career in technology at Google Inc. in the United State of America in 2010. She worked in various capacities at Google. She was the account manager for education. It was her responsibility to provide market solutions to global education clients, manage annual revenues of $80-100M, and design short and long term strategies for such entities.
After being selected as the one of the youngest to participate in the Google Reach Leadership Program, she worked as an Outreach and Business Consultant in New-Delhi India over a period of 2 months. She led outreach projects including: consulting projects with non-profit, developing marketing and social strategies for educational institutions and capacity building training for various civil society organizations.
She also worked as Project Manager and Product Marketer at Google Inc. where she organized the first of its kind. She organised technology education conference for thousands of students and educators across the globe. The aim was to bring more users to products like Google+ and Hangout on Air.
In May 2013, she was appointed team lead for the development of Econet Education in Zimbabwe. She was the youngest of all the executives in the organisation. Econect Education is a sub-section of Econet Wireless Group which aims to research, develop, deploy and launch overlay services through mobile-based application to impact on students.
She also launched an education platform called EcoSchool that provides on-the-go and reliable access to educational materials through an EcoSchool tablet.
Under her supervision at the organization, they launched a platform called EcoSchool Academy which offers interactive mobile courses covering over 50 topics.
She also spearheaded a Group initiative called Econet Zero to 5M Econet Broadband for subscribers enabling zero-rated access to 50+ education website including Codecademy, EdX, Coursera amongst others.
Presently, Teresa is the Education lead for Microsoft for East and South Africa.
Why TechHer Loves Her:
Teresa Mbagaya has been able to enhance the education system for Africans by efficiently utilizing technology in a way that both benefits her and those around her. We are so proud of her hard work!