Oluwatoyin Yetunde Sanni is a Nigerian software developer, engineer and blogger with a passion to leverage technology to tackle challenges in Nigeria and the rest of the world.
She is the co-founder of Tech-in-Pink, an initiative dedicated to diversifying the tech workforce and making university-aged women successful in programming through mentoring and support of women who want to get into technology. She also co-organizes the Lagos Women in Machine Learning and Data Science events to get more women into the AI field.
She has a B.sc in computer science from the University of Illorin, Nigeria along with certificates from Udacity in Machine Learning Engineering (Artificial Intelligence) and from Coursera in Neural Networks and Deep Learning. She is currently pursuing a master's degree in Artificial Intelligence and Robotics from the Sapienza Università di Roma.
Following her interest in computers as a child, Yetunde took up programming as a way to solve traffic related issues in Nigeria, specifically in Lagos. She previously worked as a fullstack developer with Andela where her duties involved building software solutions for different Andela partners across the globe.
In 2016, she won the Toptal STEM scholarship for Women and in 2017, Innov8tiv listed her as one of the 50 visionary women in tech to watch in 2017.
Yetunde has extensive experience as developer and programmer, having worked for several notable tech companies throughout her professional career. From 2012 to 2015, she worked with Landmark University in Omu-Aran, Kwara State, as an IT support and Technologist. She was a full stack developer at Hooch, New-York from Oct. 2015- Jan. 2016. She went on to work as a full stack developer at 500px, Canada from March 2016-April 2016. Yetunde joined Awasu Design, a design and strategy team based in San Francisco, as a full stack developer in July 2016. She has also had jobs as a sotware engineer and a ruby on rails developer. She co-founded Tech in Pink in 2016 with fellow Andela programmer, Gertrude Nyenyeshi to help share and teach young people, particularly girls, how to build and solve problems through code/technology.
She was part of the team that built 'Ayewa' — an application aimed at solving accommodation problems for students within a geographical region, which she calls her favorite.
Why TechHer Loves Her:
Yetunde believes in the necessity of a diverse and tech workforce. She believes that the industry at large will only benefit as more and more women enter the tech industry. Through her work with Tech in Pink and other volunteer organisations, she is working to ensure that this diversity becomes a reality.
She says, "If you're a woman and you want to work in tech, I wouldn't let stories about a "brogrammer" culture deter you. Instead, focus on your craft, because your skills will speak louder than your gender."
Even on an impressive list of women doing ground-breaking work in the areas of science, technology and innovation for development and change in East Africa, Dr. Dorothy Okello's name and achievements still stand out.
A Ugandan engineer, academic, and activist, Dr. Okello has made it her life's work to increase the inclusion and participation of women in using information and communication technologies (ICTs) to address development challenges in Uganda.
She is the founder of Women of Uganda Network (WOUGNET), a platform with a mission to promote and support the use of information and communication technologies by women and women organizations in Uganda. WOUGNET works to create a society in which women are empowered through the use of ICTs for sustainable development.
Dr. Okello holds a B.Sc. in Engineering (Electrical - First Class Hons.) from Makerere University, the first woman to graduate with a first class in the male-dominated Electrical Engineering department at her university at the time. She also has a M.Sc. in Electrical Engineering from the University of Kansas, United States (Fulbright Scholar), and a Ph.D. in Electrical Engineering from McGill University, Montreal, Canada (Canadian Commonwealth Scholarship Recipient). She is the immediate past president of the Uganda Institution of Professional Engineers (UIPE), the first woman to hold the position and has served on the UIPE Council since 2010. She is a member of the Institute of Electrical and Electronics Engineers (IEEE), and served on the 2018 IEEE Ad Hoc Committee on Activities in Africa (AHCAA). She has also served as a Commissioner and an Interim Chairperson with Uganda Communications Commission (UCC), where she also served as Chairperson for the Rural Communications Development Fund (RCDF). She is also an Adjunct Member of Faculty at the Institute of Technology in Carlow, Ireland.
From 2008-2009, she was a Member of the Strategy Council for the United Nations Global Alliance for ICT and Development. Dr. Okello worked as an Assistant Lecturer in the Department of Electrical Engineering at Makerere University and as a Lecturer in College of Engineering, Design, Art and Technology (CEDAT) from 1998-2013, where she taught courses on Information and Communication Technology, Telecommunication Systems and Wireless Propagation. She became a Senior lecturer at Makerere University in May 2013.
She is presently the Dean, School of Engineering, College of Engineering, Design, Art and Technology (CEDAT), Makerere University where she is also a Senior Lecturer in the Department of Electrical and Computer Engineering. She is a Researcher with netLabs!UG, a research center within the Department of Electrical and Computer Engineering that seeks to be a leader in collaborative research, development and solutions on innovative telecommunication and networking technologies with a goal to strengthen the innovation ecosystem in Uganda and across East Africa.
In addition, she is the Director of Innovation, ResilientAfrica Network (RAN) hosted by Makerere University. Supported by USAID, RAN is a multi-disciplinary network of 18 Sub-Saharan African universities that seek to identify, develop and scale innovative solutions in science and technology to strengthen the resilience of African communities.
Dr. Okello has been recognized with a number of international and national awards over the years including as a 'Top ICT Woman – Uganda ICT Excellence Awards 2009' organized by the Uganda ICT Forum. She has been featured in 12 Top Technology People in East Africa who are technologists with a social twist by Enterprise Technology Magazine, September 2012. She received the Women Achievers Award in 2012 for enhancing women's empowerment through Science & Technology. In 2013, she became Africa's first-ever Digital Woman of the Year, an award given to her at the Africa ICT Days gala ceremony for the Digital Woman Award finalists that took place in Yaoundé, Cameroon. In 2014, she was selected as a Vital Voices Fellow for distinguished emerging and established women leaders who promote women and girls' progress.
Why TechHer Loves Her:
In addition to being activist in the area of getting more women engaged in the information society, science and technology for development, Dr. Okello has and continues to break through the glass ceiling in male dominated spaces. She continually sets the standard for what women working in science and technology in Africa can achieve.
Kehinde Oni is a world class full stacker developer and computer programmer with exceptional skill in JavaScript and Ruby on Rails. Her resume includes work with some of the biggest tech companies in the world, including Microsoft and Atlas.
She is a graduate of the University of Ilorin with a degree in Mathematics.
In 2010, Kehinde was an Exchange Programme Intern at AIESEC Ghana where she volunteered for a period of 1 month. She was part of a team that organized a workshop themed, "Project YES (Young Entrepreneurs)" was aimed at empowering undergraduates in tertiary institutions.
In April 2015, she worked with other team members to develop a Civic Graph, an open source, crowdsourced knowledge base and data visualization project. It aims to map the civic tech community players and connections -- their types, locations and levels of influence in an interactive, intuitive, and modern way.
In July 2015, she worked on a project called Executer. Executer is a mobile App that uses scheduled information from your Google Calendar to figure out where you are and where you need to be at any point in time. It then helps you to schedule an Uber pick up with enough time for you to make it to your next appointment just in time.
From August 2015-Dec 2016, Kehinde served as the Vice President for SheLovesCode. SheLovesCode is an initiative of the female developers working at Andela. It was born out of the apparent gender gap in Andela and the tech world generally.
She is a member of AIESEC. Kehinde eagerly desires to launch her start up with the intent to empower Nigerian children to follow career paths of their own choosing.
She currently works as a Software Developer at Andela.
Why TechHer Loves Her:
Kehinde is smart, intelligent and self- motivated. Thriving in technology can sometimes be a bit difficult for women in Africa but she has made a name for herself in the tech space.
Aisha Bello is a systems engineer, tech enthusiast and acclaimed 'Pythonista' with a passion to help other girls utilize the immense, unexploited opportunities in Technology.
She is a member of Pyladies, an international mentorship group which focuses on helping more women become active participants in the Python open-source community. She is also an organizer for DjangoGirls in Africa. Django Girl is a non-profit organization that empowers and helps women by organizing free, one-day programming workshops by providing tools, resources and support. She has helped co-organize and support a number of Django Girls workshops in Namibia and Nigeria.
She also serves as vice-chair for the Python Nigeria community. She is enthusiastic about the Python community and has a strong desire for social change, women's tech education and empowerment in Africa.
She is a graduate of Bells University of Technology, after which she furthered her education in Information Technology from Cardiff Metropolitan University. She is a certified Cisco Networking Associate.
Miss Bello worked as a Software Development Intern from February 2012 - August 2012 at CBC EMEA. While working with them, she validated data to ensure the quality, validity and accuracy of content and worked extensively with development teams, investigating and correcting software bugs and deficiencies based on the testing results.
Between June 2014 and Jan 2015, she worked as a Technical sales representative at Complete Digital Limited in Lagos where she proffered recovery solutions and enterprise wireless networks solutions to partners and vendors. She also designed, supervised, monitored and gathered technical content for the company's e-Commerce Website.
In 2015, she volunteered with Djangogirls and organized Django Girls Windhoek and Django Girls Lagos in 2016.
Aisha has received several honors and awards including the 2016 Malcolm Tredinnick Memorial Prize from Django Software Foundation.
Aisha currently works with Cisco as an Associate System Engineer with the responsibilities of covering routing and switching. She also provides pre-sales technical support for Cisco Sales teams and partners.
Why TechHerLoves Her:
Aisha's vibrancy and enthusiasm are highly contagious! She has contributed greatly to the tech community by giving back to other women who are trying to get a foot in the Tech space. Well done Aisha!
In 2010, Dr. Nneka Mobisson's lost her father following complications from a massive stroke. That personal tragedy opened her eyes to the huge gap in Africa's healthcare support system and a few years later, she launched mDoc Healthcare, a revolutionary digital health social enterprise.
mDoc is a digital health company that aims to dramatically improve access to high quality healthcare by leveraging technology to make life better for people living with chronic health care needs. mDoc utilizes the growing penetration of mobile phone technology in Africa by connecting people living with chronic disease with a multi-disciplinary team of healthcare practitioners. Patients can receive personalized support, through education and tools to improve self-management.
It's integrated healthcare management mobile platform provides 24/7 access to virtual credentialed doctors, nurses and allied healthcare providers via SMS, voice and video platforms for people living with chronic diseases including, diabetes, respiratory system disease, HIV, asthma and cancer. With the app, people can reach experts from South Africa, Zambia, Rwanda, Kenya, US, UK and Nigeria.
The revolutinary platform is helping people live longer, happier and healthier lives in Sub-Saharan Africa and Nneka believes that developing the health landscape in Africa will help unlock the continent's true potential.
Dr. Mobisson is a pediatrician with a Master's degree in clinical and public health. She graduated from MIT in 1995 with a B.Sc. in Mechanical Engineering after which she earned her Master's in Public Health in 1998 from Emory University. She also has an MBA from the Yale School of Management.
Between 2003 and 2004, Nneka consulted for the World Bank on investing in private health care in poor countries and developing a strategy on health care systems. While working as a consultant, she also worked as a Resident physician at the Children's Hospital Philadelphia.
From 2011-2012,  she was Vice President of Community Health and Population Health Management at the Connecticut Hospital Association, where she built broad-based constituencies to address health disparities, provided leadership to hospitals in the area of population health management, and devised statewide health initiatives to better address community health and reduce costs.
From 2012-2016, Nneka was the Executive Director and Regional Lead Africa for the Institute for Healthcare Improvement; an independent not for profit organization based in Cambridge, Massachusetts until she left to launch mdoc. She was responsible for the operations and implementation of the Institute for Healthcare Improvement's existing work in Africa, as well as for developing IHI's portfolio in Africa as part of the organization's work in low- and middle-income countries.
As a consultant for McKinsey & Company, she worked primarily in the area of strategy development for payers and providers, health care IT, and pharmaceutical companies.
She is a 2017 Cartier Awards Finalist, a 2014 World Economic Forum Young Global Leader, and a Yale Associate World Fellow.
Why TechHer Loves Her.
She turned a personal tragedy into a noble purpose and is saving people's lives. Nneka leverages technology to ensure people who are unhealthy and living with chronic diseases can have easy, reliable and fast access to physicians and tools on self-management.
Damilola Solesi is the founder, CEO and creative director of SMIDS, Nigeria's foremost animation studio.
She has a Bachelor's degree in Computer Science from Bowen University, Nigeria. She studied business and entrepreneurship at Clark Atlanta University, Atlanta and holds a certificate in entrepreneurial management from the Enterprise Development Centre of the Pan-Atlantic University.
Following her lifelong dream to create animations and cartoons, Damilola started SMIDS animation studios in 2010, a company that focuses on developing creative content for kids and family entertainment meant for audiences around the world. At SMIDS, she leads a team of artists and animators who create 3D computer animation, 3D content production, motion graphics and visual effects. The company has been ranked as one of the top two animation companies in Nigeria by the PWC (Price Water Coopers) industry report.
Damilola is the recipient of many awards and grants. She is a Goldman Sachs Scholar, a mentee on the IBM Women Enterprise Challenge, a recipient of the Empowering Women series award and one of the 1,200 exceptional women who won the federal government Youth enterprise with Innovation (YouWin) grants for young entrepreneurs in the second run of the program.
In 2015, she was accepted as one of the Mandela Washington fellow under the Young African Leaders Initiative (YALI), the flagship program of President Barack Obama.
Damilola strongly supports and promotes women's interest in technology. She is the co-founder of Women R.I.S.E, a platform where women are inspired to expand their interests in technology through collaboration, networking, training, mentorship, and funding to help them play a stronger role in growing the technology startup scene in Nigeria and Africa.
In 2017, her company released an animated comedy, sketch-based, short form, web series called BOXED in response to the lack of animated children's content in Nigeria.
Why TechHer Loves Her:
Damilola is a great example of what is possible when one follows their dreams and passion. She stayed true to a dream she had as a child and not only did she create a profitble business out of it, she has made a name for herself!
Once ranked no. 4 on Github's list of best programmers in the country, Olubukola Makinwa - self-taught programmer and developer extraordinaire - is in a class of her own.
Formerly a technical team lead & lead facilitator at Andela, Olubukola is a programmer/full stack developer fascinated about the web and its technologies. She wrote her first programming language (Java) as an undergraduate.
She graduated with a first class degree from the University of Babcock. She is a Microsoft Certified Technology Specialist and also has certifications from the Neuroscience of Learning and the App Evolution with Swift.
From 2016-2018, Olubukola worked with Andela as the Lead Facilitator and Technical Team Lead. Before that, she was the lead developer at Swap Space in 2015, a company that delivers IT solutions and services. She has also worked as a technical support for GigaLayer.com and was a Web Developer at ConnectNigeria.com. She worked on projects like Online Digital Library, CNV Framework, Converg (Beta Version) a web-based platform that helps coders connect, support and learn from each other in real time.
Some of her awards include Best Graduating Student, Department of Computer Science with the Highest CGPA and also from the School of Computing and Engineering Science.
She currently works as a software engineer at Contentful, a German based company.
Why TechHerLoves Her
Olubukola is a self-taught programmer who rose to become one of the best in the country. Her brilliance, passion for the science of learning and her conviction that one can learn anything motivates us to take on challenges.
Dr. Chao Mbogo is a Kenyan educator, innovator, mentor and leader whose contributions to education, mentorship, and research have gained her multiple local and international recognitions and awards.  
She is the Founder and Program Lead of KamiLimu, a structured mentorship program for Kenyan Computer Science students at the tertiary level and through which Dr. Chao is nurturing the next generation of Kenya's computer scientists and tech innovators.
She obtained her first degree in Mathematics and Computer Science from Kenya Methodist University. She also holds a M.Sc. in Computer Science from Oxford University, UK and a Ph.D in Computer Science from the University of Cape Town, South Africa where she focused her research on support for learners from resource-constrained environment to learn programming on their mobile phones.
Dr. Chao has won several awards and received a number of recognitions for her academic achievements and contribution to research and mentorship. She was a recipient of the Schlumberger Faculty for the Future award in 2015 and was also selected as one of 200 young researchers worldwide in Mathematics and Computer Science to attend the Heidelberg Laureate Forum in in the same year. In 2016, Dr Mbogo got the Google Travel Award for Grace Hopper Celebration of Women in Computing, Anita Borg Institute Faculty Scholarship for Grace Hopper Celebration of Women in Computing, Kenya Education Network (KENET) Travel Award to present at the International Conference on Innovation and Technology in Computer Science Education. In 2017, she was awarded Google Women Techmakers Travel Grant to Grace Hopper 2017, Anita Borg Systers Pass-It-On award, TechWomen Emerging Leader, G20 Think Tank Summit Young Global Change Maker, Quartz African Innovator, McKinsey Next Generation Women Leaders Award Finalist and a 'Zuri' Award Nomination which she received in 2018 in the Leadership category. She was also awarded the Face of Science, Kenya in 2018.
Mbogo was a researcher at the Kenya Methodist University. Her research centered around Educational Technology, specifically using the mobile phone to learn programming for novice learners in resource-constrained environments.
She was a Research Assistant at E-learning project in October 2015, her role involved analysis of data and consolidating a report on KwaZulu-Natal. Dr Mbogo has written over 7 publications on Java programming on mobile phones. Her research has been published in several peer-reviewed conferences such as Innovation and Technology in Computer Science Education (ITiCSE), and peer-reviewed journals such as IADIS International Journal at WWW/Internet.
In September 2016, she founded KamiLimu, a structured 6-month mentorship program that seeks to augment class room learning for Computer Science students through professional development, community involvement, scholarship awareness, innovation workshops and industry exposure. Through KamiLimu, she prepares students beyond what they learn in the classroom. She believes that it is not for lack of skills or intellect that most youth do not thrive, but rather, for lack of information, access to that information and mentorship. She founded KamiLimu to provide that access to information and mentorship.
Dr. Chao is currently the Dean, School of Science and Technology at Kenya Methodist University where she was previously the head of the Computer Science department.
Why TechHer Loves Her:
Dr. Chao is a role model that women can strive to emulate. She is a great example of what hardwork and dedication can produce in our personal lives and the impact it can have on other people's lives.
Emem Rita Usanga is an accomplished business developer, consultant and mentor with expertise in human-centered experience designs. She describes herself as a developer that sits at the intersection between business and tech and who builds products and services with both users and the bottom line at the forefront of her mind.
She has over 18 years of experience in business development for digital media and advertising technology. She also specializes in business development, product development, UX Design, business process design and marketing strategy.
She is the founder of Bnkability, a tech platform working to solve the challenge of sourcing bankable projects in Africa by automating the African infrastructure project vetting process. Bnkability also helps SMEs become investor ready.
Emem holds a B. Sc in Media in Society from London South Bank University. She also has a number of professional certificates, including one in UI Design Patterns for Successful Software from the Interaction Design
Foundation London, UK.
She is the Co-lead at Tech London Advocates Africa (TLA Africa), a private sector led Tech coalition of over 2,700 expert individuals from the tech sector and broader community who have committed to championing London's potential as a world-class hub for tech and digital businesses. It strives to support London's tech start-ups and high-growth businesses in finding new investment, new talent and continued success. She is also an Adas List Strategy Committee Member.
Emem mentors for the Seedcamp and LSBU Enterprise focusing on operations, product development and revenue generation. She previously worked for companies such as WPP's 24/7 Real Media and Glow Digital Media.
Emem is also currently the Local Leader for Interaction Design Foundation (IDF), an independent non-profit initiative with an objective to increase the level of global design education to an Ivy League standard at a reduced cost. She is also the Strategy Consultant at This Is Nuance, where she focuses on solving business, product and marketing challenges in high growth startups and medium sized businesses.
Why TechHer Loves Her:
Emem's wealth of knowlegde and expertise is truly admirable! She inspires us to always strive for knowledge that impacts the world around us.
Ethel Delali Cofie has been named as one of the Top 5 women impacting IT in Africa for very good reason. A high caliber IT professional, technology expert and entrepreneur with a wealth of knowledge and a work portfolio that spans 3 continents, Ethel is one of the most accomplished people in technology and innovation in Africa.
She is CEO and founder of Edel Technology Consulting, an IT consulting and digital products company based in Ghana with presence in West Africa and Europe and which was recently named IT Consulting Firm of the year by the Telecoms and IT Industry.
She has a B.Sc. in Computer Science from Valley View University Ghana and a Master's Degree in Distributed Systems from the University of Brighton. She also holds a certificate in Executive Leadership, Business and Entrepreneurship from the Yale School of Management (Yale University).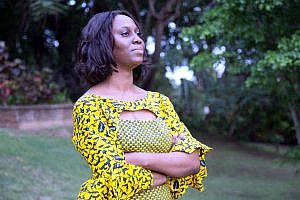 Ethel has a wealth of technical and commercial skills acquired across a wide range of demanding roles. She has worked as a systems developer/analyst at the International Institute for Information Technology and had a brief stint at Telegenuk, Brighton as a developer and junior database administrator. She worked as a web application developer at Click with Technology also in Brighton where she worked with a team to develop usable and accessible web applications. She was the business/systems analyst at RDF Group where she prepared functional design specifications. From February 2010-August 2010, Ethel worked as technology analyst at Grameen Foundation and from September 2010-December 2010, she assumed the role of technical lead with the Ford Foundation Nigeria; an electoral reporting platform. Ethel was responsible for analyzing and documenting requirements for the platform. She was the country programs manager contract of Aksa Management (Ghana County Office) and she has also worked as the IT business analyst and development consultant of DreamPerfect Solutions, Sierra-Leone. Ethel was also the CRM business delivery manager at Vodafone Ghana where she later became the Head of Commercial IT Solutions.
Ethel is one of the foremost voices in empowering women in tech and through tech in Africa. She is the founder of Women in Tech Africa, currently Africa's largest women in tech group with members in over 30 Africa countries and in the diaspora and growing. She is also the initiator of the 1st Pan African woman in tech meet up and was shortlisted for the UN GEM Tech Award for work supporting women in ICT. She is also the creator of women in tech week, a global event first held in 2016 to bring together women in technology. The first events brought together over 10,000 women virtually with physical events in Ghana, Nigeria, Botswana, Zimbabwe, Ethiopia, Canada, Germany, Belgium and China.
She is Mandela Fellow for President Obama's Young African Leaders initiative (YALI) and has consulted for the World Bank. She was shortlisted for the UN GEMTech Awards in 2014 alongside her numerous awards and recognition, including the Africa Woman of Influence in Business: ICT Category and Africa's Leading Women in IT.
Her thoughts and opinions on innovation and technology in emerging markets have been featured in prestigious publications like Wired UK, New Africa Woman, European Business Review and Business Africa amongst others and she has been featured on BBC and has had her opinion pieces published on CNN on the topics of technology in emerging markets and women leadership.
Ethel regularly serves in advisory and consulting roles on technology growth in emerging markets and on bringing more women into technology careers across Africa.
She currently sits on the Advisory Board for Ghana's Vice President, helping to design Digital Strategy for Ghana as well as the Tech Advisory board for the Graca Machel Trust.
Why TechHer Loves Her:
Ethel is a pacesetter for African women. Her vast experience in technology consultancy and entrepreneurial management spurs us to aim higher in our different disciplines. It also teaches us that no ambition is too much for the African woman to achieve.
Ethel once said, "Stop second-guessing and just jump. Remember, the mistakes you make are all part of learning. Therefore instead of over thinking things, just do it; You will figure it out in your own way."
We at TechHer totally agree!