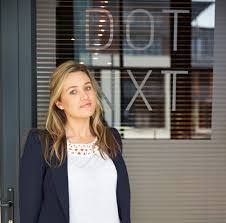 About Her:
Annette Muller is a digital consultant by profession. She obtained a certificate in Digital Change Management from the renowned Hyper Island Digital Master Class New York in 2011. She graduated from the University of Cape Town, South-Africa with a B.Sc. in Business science, Financing and Marketing in 2007. She also has a certificate in Spanish from Universidad de Salamanca. She was profiled as one of the 10 female technology entrepreneurs to watch in Africa by Forbes magazine.
Her Work:
Annette Muller has worked at several institutions in the course of her very successful career. In 2008, she worked as an Intern with Quicktell. She was exposed to online marketing, updating website content and copywriting using Joomla and CMS.
Still in 2008, Annette was the Account Executive at ikineo. She worked on NOKNOK; a social network created by MTN back in the day.
From January 2009 to April 2009, she worked at Glaceau as their digital and social networker for the Country Launch.
Between September 2010 - March 2011, Annette worked with the Digital Business Manager of Nasper Group where she assisted with the setup of all social media initiatives, moving journalists onto twitter and integrating social media into the existing web and media platforms.
from August 2009 – August 2010, as the Lead Innovator at MiWorld, Annette implemented strategies and concept as well as full digital experience planning bridging the online/offline client experience with the launch of the popular new MiBAR. In this capacity, she was responsible for concept development, digital experience, planning and management of all technology developments including web, mobile and touch screen tables & screens, back-end development and all integration.
In March 2011, she founded DOTNXT in Johannesburg, South- Africa. DOTNXT is a strategic innovation management firm in Cape Town that was established to bridge the gap between strategy (consulting) and delivery (project management) on a range of digital, mobile, social and next-generation branding projects. It empowers businesses to embrace the real-time digital dynamic cultures of today and new technologies, propelling them forward to the forefront of success.
Why TechHer Loves Her:
She saw a gap in companies between strategy and execution and decided to offer more hands-on strategic programme management. She lives her mantra which is "if you are the smartest person in the room you are in the wrong room!"